Love is a complex set of emotions, behaviors, and beliefs associated with strong feelings of affection, protectiveness, warmth, and respect for another person.
There are times when words fail us in matters of the heart, and it's hard to find the words to describe that feeling of love.
Some of the most beautiful words already written by the world's most famous authors, musicians, and poets will capture exactly what you want to say.
Famous love quotes and sayings will help you describe exactly how you are feeling with the most touching wording. Love is one of the strong and positive emotions.
Best Love Quotes of All Time
Being deeply loved by someone gives you strength, while loving someone deeply gives you courage. – Lao Tzu
I saw that you were perfect and so I loved you. Then I saw that you were not perfect and I loved you even more.
We are most alive when we're in love. – John Updike
I wasn't expecting you. I didn't think that we would end up together. The single most extraordinary thing I've ever done with my life is fall in love with you. I've never been seen so completely, loved so passionately and protected so fiercely. – Beth Pearson
You know you're in love when you can't fall asleep because the reality is finally better than your dreams. – Dr. Seuss
In love there are two things: bodies and words. – Joyce Carol Oates
Let us always meet each other with smile, for the smile is the beginning of love. – Mother Teresa
'Tis better to have loved and lost, than never to have loved at all. – Alfred, Lord Tennyson
How do I love thee? Let me count the ways. / I love thee to the depth and breadth and height / My soul can reach… – Elizabeth Barrett Browning
The only thing we never get enough of is love; and the only thing we never give enough of is love. – Henry Miller
We're born alone, we live alone, we die alone. Only through our love and friendship can we create the illusion for the moment that we're not alone. – Orson Welles
Continue to share your heart with people even if it has been broken. – Amy Poehler
I'm selfish, impatient and a little insecure. I make mistakes, I am out of control and at times hard to handle. But if you can't handle me at my worst, then you sure as hell don't deserve me at my best. – Marilyn Monroe
There is only one happiness in this life, to love and be loved. – George Sand
Love takes off masks that we fear we cannot live without and know we cannot live within. – James Baldwin
You always gain by giving love. – Reese Witherspoon
I think the perfection of love is that it's not perfect. – Taylor Swift
Love yourself first and everything else falls into line. You really have to love yourself to get anything done in this world. – Lucille Ball
All that you are is all that I'll ever need. – Ed Sheeran
Love has nothing to do with what you are expecting to get–only with what you are expecting to give–which is everything. – Katharine Hepburn
It is a curious thought, but it is only when you see people looking ridiculous that you realize just how much you love them. – Agatha Christie
Love makes your soul crawl out from its hiding place. – Zora Neale Hurston
There is always madness in love. But there is also always some reason in madness. – Friedrich Nietzsche
Have enough courage to trust love one more time and always one more time. – Maya Angelou
Love does not consist in gazing at each other, but in looking outward together in the same direction. – Antoine de Saint-Exupéry
Love is a fire. But whether it is going to warm your hearth or burn down your house, you can never tell. – Joan Crawford
I love her and it is the beginning of everything. – F. Scott Fitzgerald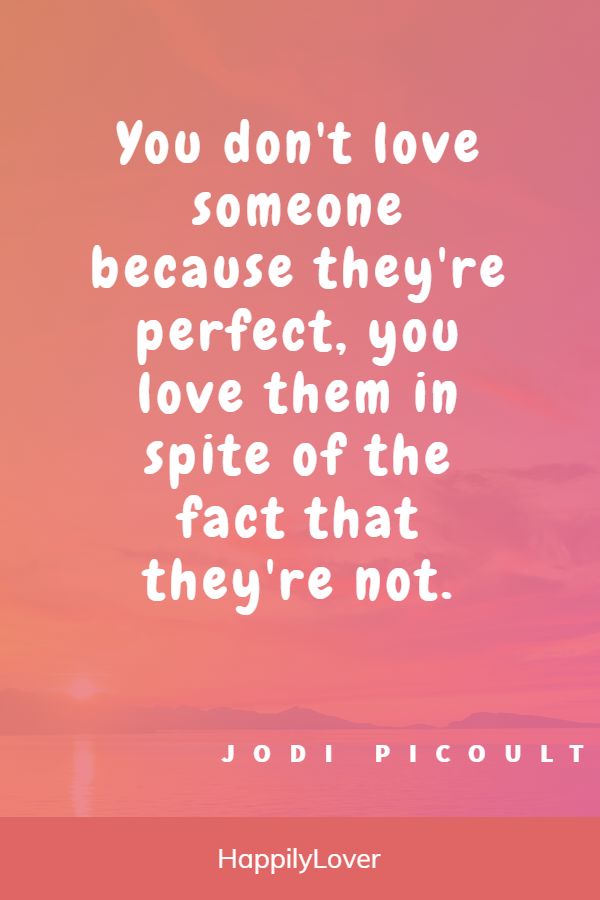 There is nothing I would not do for those who are really my friends. I have no notion of loving people by halves; it is not my nature. – Jane Austen
Love is an irresistible desire to be irresistibly desired. – Robert Frost
Life is the flower for which love is the honey. – Victor Hugo
To love and be loved is to feel the sun from both sides. – David Viscott
Love is the whole thing. We are only pieces. – Rumi
There is no charm equal to tenderness of the heart. – Jane Austen
The best and most beautiful things in this world cannot be seen or even heard, but must be felt with the heart. – Helen Keller
Once the realization is accepted that even between the closest human beings infinite distances continue, a wonderful living side by side can grow, if they succeed in loving the distance between them which makes it possible for each to see the other whole against the sky. – Rainer Maria Rilke
I love her, and that's the beginning and end of everything. – F. Scott Fitzgerald
Life without love is like a tree without blossoms or fruit. – Khalil Gibran
Most Beautiful Love Quotes
The most important thing in life is to learn how to give out love, and to let it come in. – Morrie Schwartz
Love recognizes no barriers. – Maya Angelou
The best thing to hold onto in life is each other. – Audrey Hepburn
Love will find a way through paths where wolves fear to prey. – Lord Byron
Love is composed of a single soul inhabiting two bodies. – Aristotle
If I know what love is, it is because of you. – Herman Hesse
I love you not because of who you are, but because of who I am when I am with you. – Roy Croft
There is no charm equal to tenderness of heart. – Jane Austen
Love is a friendship set to music. – Joseph Campbell
The heart has its reasons of which reason knows nothing. – Blaise Pascal
The giving of love is an education in itself. – Eleanor Roosevelt
We are shaped and fashioned by what we love. – Johann Wolfgang von Goethe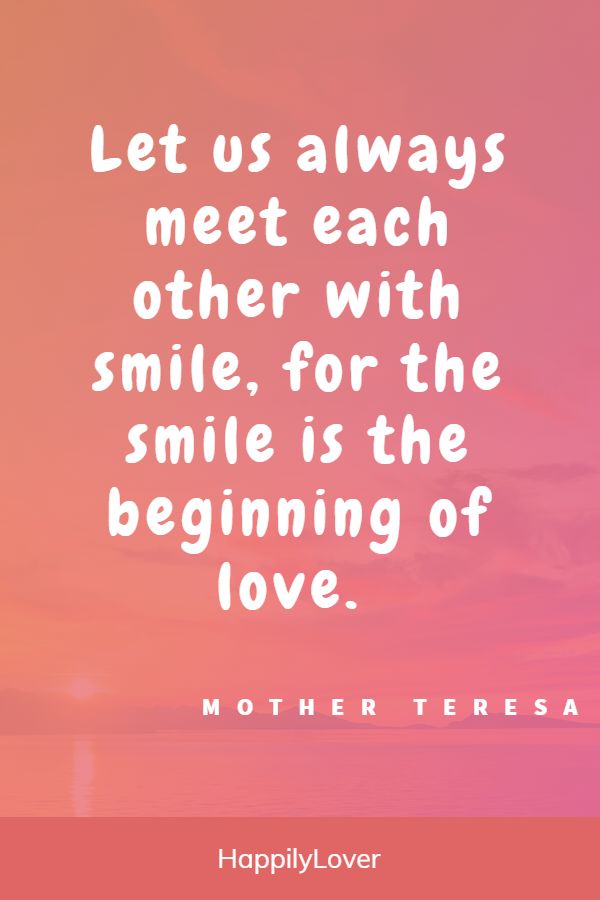 Love is friendship that has caught fire. – Ann Landers
Love recognizes no barriers. It jumps hurdles, leaps fences, penetrates walls to arrive at its destination full of hope. – Maya Angelou
When we are in love we seem to ourselves quite different from what we were before. – Blaise Pascal
Love in its essence is spiritual fire. – Seneca
You can't blame gravity for falling in love. – Albert Einstein
The real lover is the man who can thrill you by kissing your forehead or smiling into your eyes or just staring into space. – Marilyn Monroe
The way to love anything is to realize that it may be lost. – Gilbert K. Chesterton
If you find someone you love in your life, then hang on to that love. – Princess Diana
All you need is love. But a little chocolate now and then doesn't hurt. – Charles Schulz
It takes courage to love, but pain through love is the purifying fire which those who love generously know. We all know people who are so much afraid of pain that they shut themselves up like clams in a shell and, giving out nothing, receive nothing and therefore shrink until life is a mere living death. – Eleanor Roosevelt
I swear I couldn't love you more than I do right now, and yet I know I will tomorrow. – Leo Christopher
Don't brood. Get on with living and loving. You don't have forever. – Leo Buscaglia
I think I'd miss you even if we never met. – The Wedding Date
In your life my infinite dreams live. – Pablo Neruda
I fell in love the way you fall asleep: slowly, and then all at once. – John Green, "The Fault in Our Stars"
When I saw you I fell in love, and you smiled because you knew it. – William Shakespeare
A simple "I love you" means more than money. – Frank Sinatra
I love how she makes me feel like anything is possible, or like life is worth it. – Tom Hansen, 500 Days of Summer
Your task is not to seek for love, but merely to seek and find all the barriers within yourself that you have built against it. – Rumi
Everything I do, I do it for you. – Bryan Adams
To love or have loved, that is enough. Ask nothing further. There is no other pearl to be found in the dark folds of life. – Victor Hugo, Les Misérables
Love is of all passions the strongest, for it attacks simultaneously the head, the heart and the senses. – Lao Tzu
You don't marry someone you can live with — you marry someone you cannot live without. – Unknown
You know it's love when all you want is that person to be happy, even if you're not part of their happiness. – Julia Roberts
Short Love Quotes
I want all of you, forever, you and me, every day. – Nicholas Sparks, "The Notebook"
You have bewitched me body and soul, and I love, I love, I love you. – Mr. Darcy in Pride and Prejudice
At the touch of love everyone becomes a poet. – Plato
To me, you are perfect. – Love Actually
If I had a flower for every time I thought of you… I could walk through my garden forever. – Alfred Tennyson
If you live to be a hundred, I want to live to be a hundred minus one day, so I never have to live without you. – Winnie the Pooh
You are my heart, my life, my one and only thought. – Arthur Conan Doyle, The White Company
When you arise in the morning, think of what a precious privilege it is to be alive – to breathe, to think, to enjoy, to love. – Marcus Aurelius
True love stories never have endings. – Richard Bach
With the whole world crumbling, we pick this time to fall in love. – Ilsa, Casablanca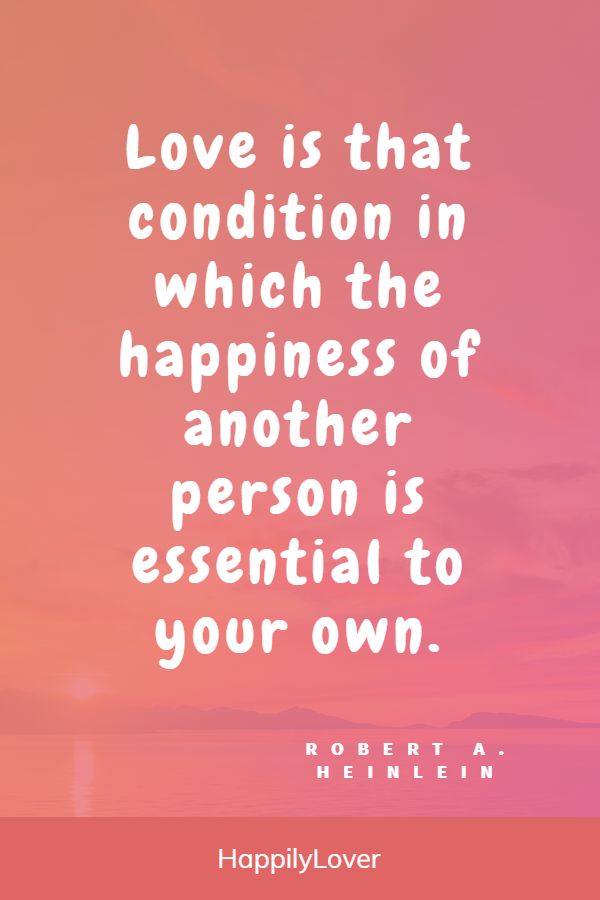 There's nothing that I wouldn't do to make you feel my love. – Bob Dylan
Whatever our souls are made of, his and mine are the same. – Emily Brontë, Wuthering Heights
Keep love in your heart. A life without it is like a sunless garden when the flowers are dead. – Oscar Wilde
As he read, I fell in love the way you fall asleep: slowly, and then all at once. – John Green, The Fault in Our Stars
Love is something sent from heaven to worry the hell out of you. – Dolly Parton
I've never had a moment's doubt. I love you. I believe in you completely. You are my dearest one. My reason for life. – Ian McEwan, Atonement
Lots of people want to ride with you in the limo, but what you want is someone who will take the bus with you when the limo breaks down. – Oprah Winfrey
To be brave is to love someone unconditionally, without expecting anything in return. – Madonna
You should be kissed and often, and by someone who knows how. – Rhett Butler, Gone With the Wind
You yourself, as much as anybody in the entire universe, deserve your love and affection. – Buddha
If I loved you less, I might be able to talk about it more. – Jane Austen, Emma
I love being married. It's so great to find one special person you want to annoy for the rest of your life. – Rita Rudner
He looked at her the way all women want to be looked at by a man. – F. Scott Fitzgerald, The Great Gatsby
Love many things, for therein lies the true strength, and whosoever loves much performs much, and can accomplish much, and what is done in love is done well. – Vincent Van Gogh
Do I love you? My god, if your love were a grain of sand, mine would be a universe of beaches. – William Goldman, The Princess Bride
I am who I am because of you. – Nicholas Sparks, The Notebook
The art of love is largely the art of persistence. – Albert Ellis
That's why they call them crushes. If they were easy, they'd call them something else. – Sixteen Candles
I just want you to know that you're very special… and the only reason I'm telling you is that I don't know if anyone else ever has. – Stephen Chbosky, The Perks of Being a Wallflower
If you would be loved, love, and be loveable. – Benjamin Franklin
I like you very much. Just as you are. – Bridget Jones's Diary
Remember, we're madly in love, so it's all right to kiss me any time you feel like it. – Peeta, The Hunger Games
Personally, I love a great love story. – Meghan Markle
Friends show their love in times of trouble, not in happiness. – Euripides
Love is the flower; you've got to let it grow. – John Lennon
I love you. I knew it the minute I met you. – Pat, Silver Linings Playbook
Love does not dominate; it cultivates. – Johann Wolfgang von Goethe
Maybe I don't know that much but I know this much is true, I was blessed because I was loved by you. – Celine Dion
We loved with a love that was more than love. – Edgar Allan Poe, Annabel Lee
Inspirational Love Quotes
Love is an untamed force. When we try to control it, it destroys us. When we try to imprison it, it enslaves us. When we try to understand it, it leaves us feeling lost and confused. – Paulo Coelho
When you realize you want to spend the rest of your life with somebody, you want the rest of your life to start as soon as possible. – When Harry Met Sally
When you adopt the viewpoint that there is nothing that exists that is not part of you, that there is no one who exists who is not part of you, that any judgment you make is self-judgment, that any criticism you level is self-criticism, you will wisely extend to yourself an unconditional love that will be the light of the world. – Harry Palmer
I have decided to stick with love. Hate is too great a burden to bear. – Martin Luther King, Jr.
Love loves to love love. – James Joyce
I loved her against reason, against promise, against peace, against hope, against happiness, against all discouragement that could be. – Charles Dickens, Great Expectations
A healthy self-love means we have no compulsion to justify to ourselves or others why we take vacations, why we sleep late, why we buy new shoes, why we spoil ourselves from time to time. We feel comfortable doing things which add quality and beauty to life. – Andrew Matthews
Nobody has ever measured, not even poets, how much the heart can hold. – Zelda Fitzgerald
Love is an endless act of forgiveness. – Beyoncé
Love is not only something you feel, it is something you do. – David Wilkerson
The love we give away is the only love we keep. – Elbert Hubbard
First and foremost, self-love, and then give love away. – Katy Perry
Love is what you've been through with somebody. – James Thurber
The more one judges, the less one loves. – Honore de Balzac
The smile is the beginning of love. – Mother Teresa
Love is when you meet someone who tells you something new about yourself. – Andre Breton
Love is so short, forgetting is so long. – Pablo Neruda
All you need is love. – The Beatles
The most beautiful people we have known are those who have known defeat, known suffering, known struggle, known loss, and have found their way out of the depths. These persons have an appreciation, a sensitivity and an understanding of life that fills them with compassions, gentleness, and a deep loving concern. Beautiful people do not just happen. – Elizabeth Kubler-Ross
Love was made for me and you. – Nat King Cole
A kiss is a lovely trick designed by nature to stop speech when words become superfluous. – Ingrid Bergman
I'd never lived before your love. – Kelly Clarkson
You're always with yourself, so you might as well enjoy the company." — Diane Von Furstenberg
Never love anybody who treats you like you're ordinary. – Oscar Wilde
Immature love says: 'I love you because I need you.' Mature love says 'I need you because I love you.' – Erich Fromm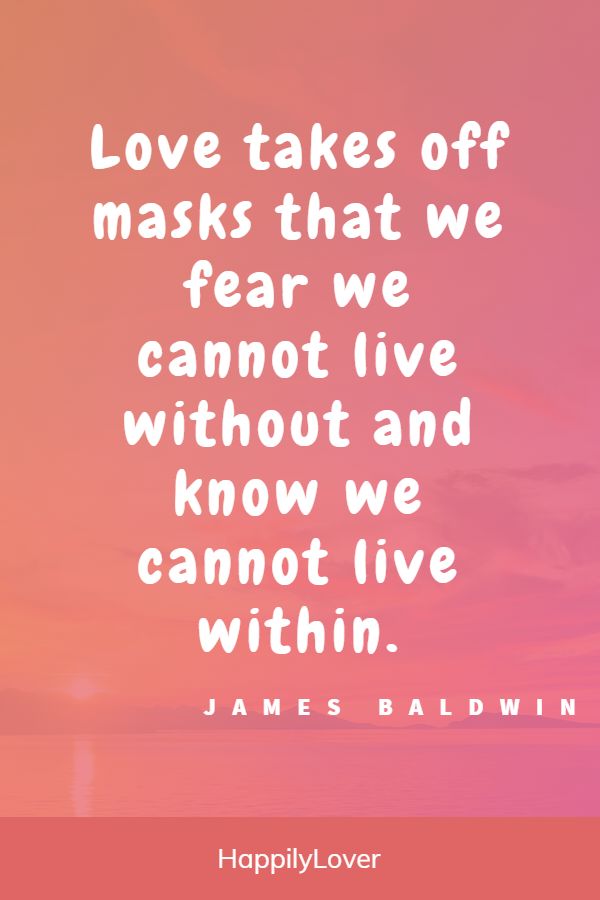 In all the world, there is no love for you like mine. – Maya Angelou
To Love is nothing to be loved is something. To love and be loved is everything. – Bill Russell
I wanted it to be you. I wanted it to be you so badly. – You've Got Mail
Within you I lose myself. Without you I find myself wanting to become lost again. – Unknown
One word frees us of all the weight and pain of life: That word is love. – Sophocles
You had me at hello. – Jerry Maguire
Every day and night, my mind is filled with thoughts of you. As long as the sun continues to shine, you can be sure that my heart will remain yours.
The deeper that sorrow carves into your being, the more joy you can contain. Is not the cup that holds your wine the very cup that was burned in the potter's oven? And is not the lute that soothes your spirit, the very wood that was hollowed with knives? When you are joyous, look deep into your heart and you shall find it is only that which has given you sorrow that is giving you joy. When you are sorrowful look again in your heart, and you shall see in truth that you are weeping for that which has been your delight. – Kahlil Gibran
When we love, we always strive to become better than we are. When we strive to become better than we are, everything around us becomes better too. – Paulo Coelho, "The Alchemist"
To feel the love of people whom we love is a fire that feeds our life. – Pablo Neruda
Forever is a long time, but I wouldn't mind spending it by your side.
Better to have lost and loved than never to have loved at all. – Ernest Hemingway
Never love anyone who treats you like you're ordinary. – Oscar Wilde
Famous Quotes About Love
Give me a kiss and I'll serenade you among the stars. Give me your love and I will pluck each star to set at your feet.
A friend is someone who knows all about you and still loves you. – Elbert Hubbard
Sometimes it's a form of love just to talk to somebody that you have nothing in common with and still be fascinated by their presence. – David Byrne
I can't wait… to spend the rest of my life with you.
I found in my research that the biggest reason people aren't more self-compassionate is that they are afraid they'll become self-indulgent. They believe self-criticism is what keeps them in line. Most people have gotten it wrong because our culture says being hard on yourself is the way to be. – Kristen Neff
I look at you and see the rest of my life in front of my eyes.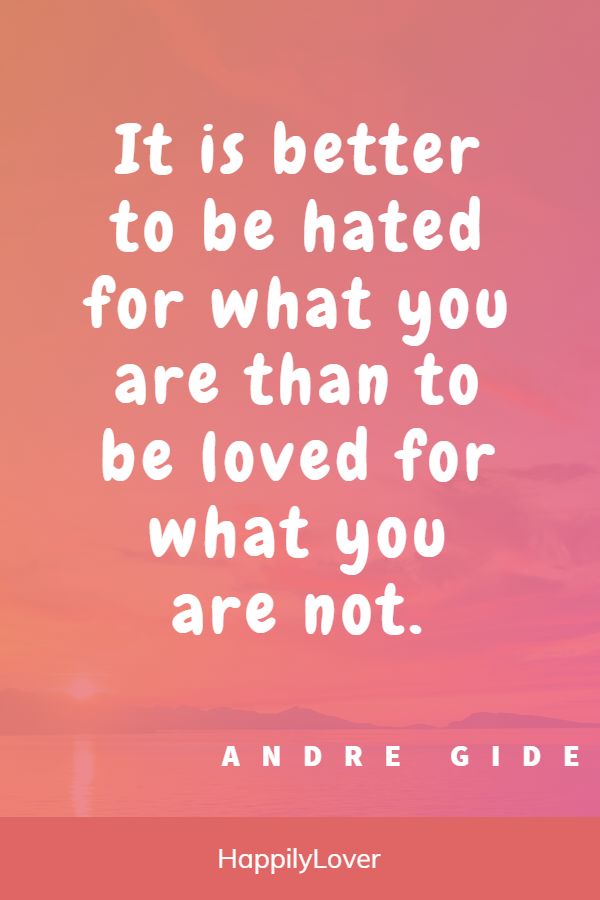 Love is a better teacher than duty. – Albert Einstein
When you love someone, you love the person as they are, and not as you'd like them to be. – Leo Tolstoy
I love those hugs where you just don't want to let go.
True love comes quietly, without banners or flashing lights. If you hear bells, get your ears checked. – Erich Segal
I love you every step of the way.
If you aren't good at loving yourself, you will have a difficult time loving anyone, since you'll resent the time and energy you give another person that you aren't even giving to yourself. – Barbara De Angelis
The greatest happiness of life is the conviction that we are loved; loved for ourselves, or rather, loved in spite of ourselves. – Victor Hugo
I love you for all that you are, all that you have been and all that you're yet to be.
The greatest healing therapy is friendship and love. – Hubert H. Humphrey
The greatest thing you'll ever learn is to love and be loved in return. – Nat King Cole
I loved you from the very first day.
Every person has to love at least one bad partner in their lives to be truly thankful for the right one. – Unknown
You are my sun, my moon, and all my stars. – E. E. Cummings
I loved you yesterday, I love you still. I always have, and I always will.
There came a time when the risk to remain tight in the bud was more painful than the risk it took to blossom. – Anaïs Nin
You don't love someone because they're perfect, you love them in spite of the fact that they're not. – Jodi Picoult, "My Sister's Keeper"
I never wanted to be your whole life – just your favorite part.
Feeling Love Quotes
The best proof of love is trust. – Joyce Brothers
Oh, how a quiet love can drown out every fear. – Jessica Katoff
A woman knows the face of the man she loves as a sailor knows the open sea. – Honore de Balzac
I want to be in your arms, where you hold me tight and never let go.
You never fail to amaze me. Every day there is something new that makes me love you even more than the day before.
When I loved myself enough, I began leaving whatever wasn't healthy. This meant people, jobs, my own beliefs and habits – anything that kept me small. My judgment called it disloyal. Now I see it as self-loving. – Kim McMillen
I've tried so many times to think of a new way to say it, and it's still I love you. – Zelda Fitzgerald
I want to be with you until the sun falls from the sky.
A dog is the only thing on earth that loves you more than you love yourself. – Josh Billings
In vain have I struggled. It will not do. My feelings will not be repressed. You must allow me to tell you how ardently I admire and love. – Mr. Darcy, 'Pride and Prejudice'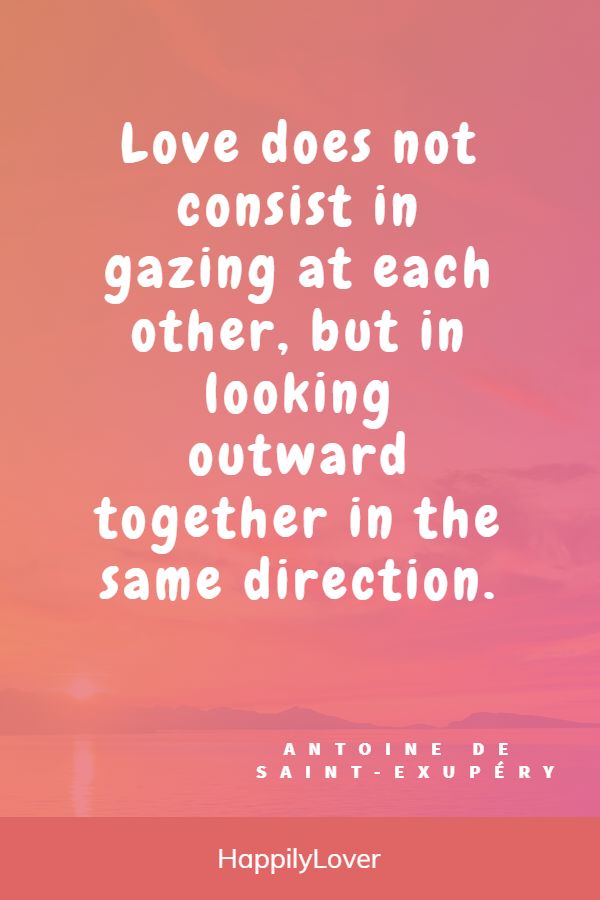 I want you. All of you. Your flaws. Your mistakes. Your imperfections. I want you, and only you.
You have NO idea how fast my heart races when I see you.
Fortune and love favor the brave. – Ovid
I would walk through the desert, I would walk down the aisle, I would swim all the oceans just to see you smile.
For small creatures such as we the vastness is bearable only through love. – Carl Sagan
To love is nothing. To be loved is something. But to love and be loved, that's everything. – T. Tolis
If love was a storybook we'd meet on the very first page.
You are my world.
You are my best friend, my human diary, and my other half. You mean the world to me and I love you.
If you were a movie, I'd watch you over and over again. I could watch you every day of my life and never get bored.
Loving people live in a loving world. Hostile people live in a hostile world. Same world. – Wayne Dyer
I'm much more me when I'm with you.
Love never dies a natural death. It dies because we don't know how to replenish its source. It dies of blindness and errors and betrayals. It dies of illness and wounds; it dies of weariness, of witherings, of tarnishings. – Anaïs Nin
My heart is perfect because you are inside.
Whenever you're having a bad day, remember this: I LOVE YOU.
Where there is love there is life. – Mahatma Gandhi
My mind thinks of you the second I fall asleep and as soon as I wake up each morning.
Love is that condition in which the happiness of another person is essential to your own. – Robert A. Heinlein
Darkness cannot drive out darkness: only light can do that. Hate cannot drive out hate: only love can do that. – Martin Luther King Jr.
Thinking of you keeps me awake. Dreaming of you keeps me asleep. Being with you keeps me alive.
When I gaze deep into your mind, I am met with the beauty of a thousand diamonds. As I let that love and beauty flood over my body, I knew that there was nothing that I would ever trade our relationship for.
When you feel alone, just look at the spaces between your fingers and remember that's where mine fit perfectly.
And in the end, the love you take, is equal to the love you make. – Paul McCartney
I hope you know that every time I tell you to get home safe, stay warm, have a good day or sleep well what I am really saying is I love you. I love you so damn much that it is starting to steal other words' meanings.
When I tell you I love you, I don't say it out of habit. I say it to remind you that you're the best thing that ever happened to me.