Having a crush is one of the most beautiful feelings in the world. When you have a crush on someone, you feel crazy emotions. The smile appears on your face for no reason. It can make you feel butterflies in your stomach. When you see your crush, you feel a sense of happiness.
It's an exciting feeling, and it's natural to want to impress your crush! If you're looking for the perfect words to express your crush, we've got you covered. From cute and funny to romantic and passionate, here are some of the best crush quotes to help you find the perfect words to let them know how you really feel.
HappilyLover Presents:
Transform Your Relationships with Self-love! Learn how nurturing self-acceptance can lead to more fulfilling connections. This e-book guides you on an empowering path to self-discovery and relational bliss.
Start Your Journey to Self-Love Now!
Do you have a special someone that makes your heart skip a beat every time you think of them? We all know the feeling of having that special someone on your mind, but knowing just the right way to express your feelings can often be difficult. Whether it's a crush, an old flame, or someone you just can't get out of your head, let these sweet crush quotes be the perfect way to express your emotions and show just how much you care.
It's hard to express your love in words but deep love quotes might be the best way to show your feelings to your crush. You can explain the beautiful feeling you experience with crazy love sayings.
Table of Contents
Best Crush Quotes
When you fall for someone for who she really is, Everything about her becomes beautiful.
My heart stops when you look at me. Katy Perry
You probably never knew, but I had the biggest crush on you. Shane Koyczan
Your eyes make me shy. Anais Nin
I've found this new disease, it's called LOVE. I know it is contagious because you gave it to me.
I don't know why I'm so afraid to lose you when you're not even mine. Nurilla Iryani
Some crushes just never went away. They built, instead, into something permanent, obsessive and all-consuming. Maya Banks
Just thinking about you brings a smile to face, a twinkle to my eye, and a skipped beat to my heart. Ash Sweeney
HappilyLover Presents:
Unlock the Secret to Stronger Relationships with Self-Love! Explore how self-esteem shapes your interactions. This e-book offers essential insights into building a compassionate relationship with yourself, paving the way for healthier and happier connections with others.
Download Your Guide to Self-Love & Relational Harmony!
My heart had been touched by him, battered by him, cradled by him as the days passed. He was cruel without meaning to be yet he was kind, and I needed him too much to let myself want him. Mackenzie Herbert
He is the illusion of which you dream. He is a beautiful afterthought of all the words of love left unspoken. Maddy Kobar
I got a crush on you; I hope you feel the way that I do: I get a rush when I'm with you; Oh, I got a crush on you. Mandy Moore
Love isn't something you find. Love is something that finds you. Loretta Young
I love you. I hate you. I like you. I hate you. I love you. I think you're stupid. I think you're a loser. I think you're wonderful. I want to be with you. I don't want to be with you. I would never date you. I hate you. I love you…..I think the madness started the moment we met and you shook my hand. Did you have a disease or something? Shannon L. Alder
Every love song reminds me of you.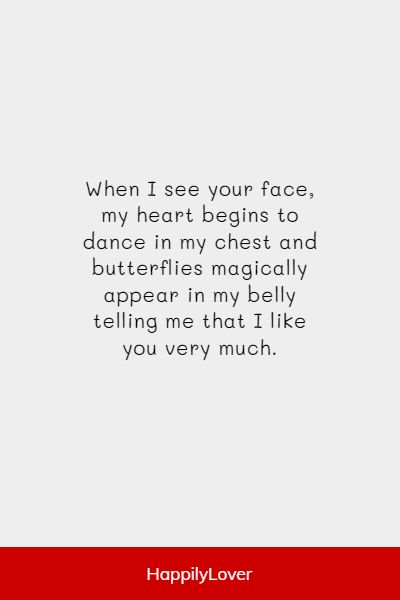 Because of you, half the time I don't even know that I'm smiling.
You see in all my life I've never found what I couldn't resist, what I couldn't turn down. I could walk away from anyone I ever knew, but I can't walk away from you.
When I see your face, my heart begins to dance in my chest and butterflies magically appear in my belly telling me that I like you very much.
If I know what love is, it is because of you. Herman Hesse
When I see you, I admit I start to lose my grip and all of my cool.
I wish if I could only ask you what do you think about me?
I would be crushed if I found out my crush didn't have a crush on me.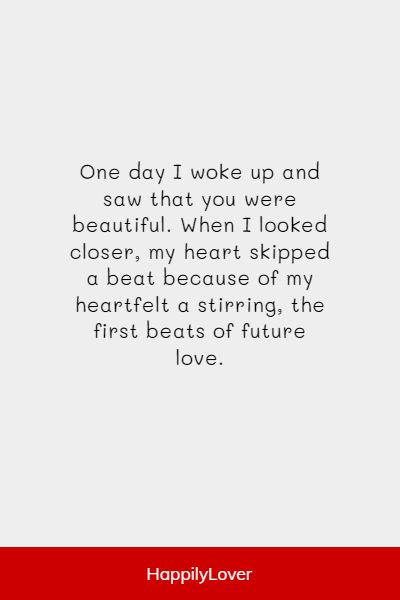 I dream of going to places with you. I hope to wake up with you each morning. I wish to hold your hand and never let it go. Someday, I hope all of these hopes and wishes would come true.
You don't have to be a genius to figure what's between us.
One day I woke up and saw that you were beautiful. When I looked closer, my heart skipped a beat because of my heartfelt a stirring, the first beats of future love.
Dear crush, thinking of you today makes me feel great. I'm going to like you everyday.
Love is friendship set on fire. Jeremy Taylor
You get crushes on people. You have to see them every day in that week. They're a fantastic person, and it could be a man or a woman. Jennifer Saunders
Let your heart be filled with love and sweetness with these simple love quotes.
Cute Crush Quotes Straight From the Heart
I get the best feeling in the world when you say hi to me, or even smile because I know even if just for a second, I crossed your mind.
If you live to be a hundred, I want to live to be a hundred minus one day, so I never have to live without you.
HappilyLover Presents:
Elevate Your Relationships Through the Power of Self-Love. Learn how to cultivate self-worth and authenticity, creating a foundation for more genuine and supportive relationships.
Embark on Your Self-Love Adventure Today!
It's nice to have a crush on someone. It feels like you're alive, you know? – Scarlett Johansson
If I had a single flower for every time I think of you, I could walk forever in my garden. Claudia Adrienne Grandi
Loving someone in secret can really be so frustrating but feels great.
Believing that you are mine forever is what makes me get up in the mornings.
Love is like a friendship caught on fire. Bruce Lee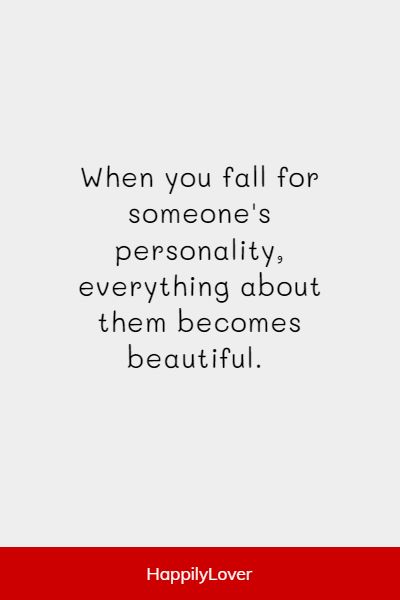 It's the little things you do that makes me so crazily attracted to you.
There is nothing I wouldn't do to make you mine forever.
The spaces between your fingers are meant to be filled with mine.
Perfection is in the eye of the beholder and I would love nothing more than to watch you stay perfectly the way you are.
Teenage crush is like flu. If you find a remedy for it, it lasts for a couple of days. If you don't, it still lasts for a couple of days. Raheel Farooq
Creating a nickname for your crush, that only you and your friends know.
Do you know what it's like to like someone so much you can't stand it and know that they'll never feel the same way? – To All the Boys I've Loved Before
HappilyLover Presents:
Transform Your Love Life by Starting with Yourself! Understand how self-love impacts every relationship. This e-book provides practical tools and exercises to build your self-esteem and enhance your connections with those around you.
Begin Your Path to Better Relationships!
I want to touch with my mouth. His mouth, with my mouth. Maybe his neck, too. But first things first: Make him aware I exist. Laini Taylor
My heart stops when you look at me.
My confidence is all always sky high unless I have to ask you for your number, all of that confidence goes down the drain.
When he's not yours, but you don't want him to date anyone else.
Loving you is like breathing How can I stop?
I am head over heels, deeply and crazily in love with you.
I'll be yours forever, just tell me when to start.
It's amazing how crazy I feel when my phone vibrates and I'm, begging it to be you.
He barely knew I existed. I knew some of the same people he knew, but I was a girl in the background, several degrees of separation removed. Rick Yancey
Often, when a girl has a crush on a boy, her friend will dare her to speak to him or ask for a pencil, or better yet, let him know that she has a crush. Pretty risky stuff… It happens thousands of times a day in the lives of teenagers everywhere. Putting yourself out there. Daring to expose your true feelings. Jazz Jennings
He had beautiful eyes the kind you could get lost in and I guess I did.
When you fall for someone's personality, everything about them becomes beautiful.
These sweet good morning love quotes will show your beloved just how much you care.
Sweet Crush Quotes
Thank you for giving me the most wonderful years and the most beautiful life.
I fervently wish every night for you and me to end up together… It's the same as wishing for the moon to shine on a bright and clear morning sky.
The way you can make me laugh even on the darkest days makes me feel lighter than a feather.
I would love to be the person that could make you laugh and smile every day.
HappilyLover Presents:
Find Love Outside by Cultivating it Within! 'Self-Love: The Journey to Embrace Your Essence' is your roadmap to nurturing a deep sense of self-worth and bringing that love into every relationship you have.
Nurture Your Inner Self – Download Now!
If you could see that I'm the one that understands you, been here all along so why can't you see you belong with me. Taylor Swift
There are so many other things I should be doing with my life right now but instead, I am stuck here crushing on you.
You should let me love you, let me be the one to give you everything you want and need. Mario
I think about you constantly, whether it's with my mind or my heart. Terri Guillemets
Sometimes I just can't ignore the way I feel when I see you smile.
If someone will give me a dollar every time I think about you, I may be a millionaire now. Because I think about you every minute, every day.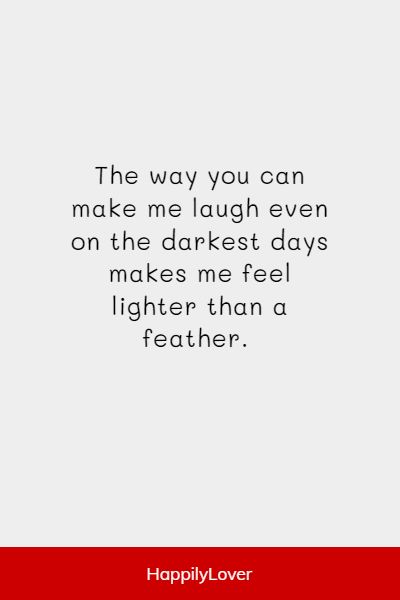 When I think about you I end up having a stupid grin on my face.
Isn't it funny how just one little phone call or text can make your bad day suddenly wonderful! Nishan Panwar
You make me blush. I get tongue-tied every time you talk to me. Can't you still tell that I have a crush on you?
You are all that matters to me, my love for you will last eternally.
I know I am but summer to your heart, and not the full four seasons of the year. Edna St. Vincent Millay
I don't remember having a crush on a boy when I was a girl. I don't even remember my first kiss. Maureen O'Hara
If I got a penny for every time I thought and dreamed about you, I would be rich.
Making your dream come true is my dream come true.
Ever since I met you, it hasn't been the same. All you've got me doing is drawing hearts around your name.
You know that feeling when your head says no, but your heart says yes? It's wrong, but it feels so right? I wish we could be together.
When I am with you, I feel as if I were in a dream garden walking with my fairy tale prince and my happily ever after coming true.
When they say to make a wish, you are the first thing that I think about.
There is nothing better than when your crush has a crush on you, too.
It's funny how someone can seem normal to you one day only for you to realize the next day that you are in love with them. It is like a light bulb suddenly being turned on.
An encounter with you is what I pray for before I start my day. Maybe, just maybe, God will be kind enough to grant this silly little wish.
All I really want is to hold you tight, treat you right, be with you day and night. Britney Spears
If you're looking for a meaningful way to show your love and appreciation for your special someone, beautiful good night love quotes are a simple yet powerful way to show how much you care.
Quotes For Your Crush
Some things have to remain a secret, but you and I don't.
That awkward moment when your crush has asked you who your crush is.
It is hard for me to pretend that I don't like you when in reality I am crazy about you.
I can't help myself when I see you. My heart just starts racing, and my mind just gets all dizzy, and I feel lightheaded because you are near.
Even after most said it was over between you and me, I still to this day, never shut up about you. You've got me wrapped around your finger.
There are fewer things worse than when your crush has feelings for someone who isn't you.
No matter how hard I try to think about something else, my thoughts always go back to you.
The sight of you makes my heart flutter.
Someone stole my heart. Can I check your pockets?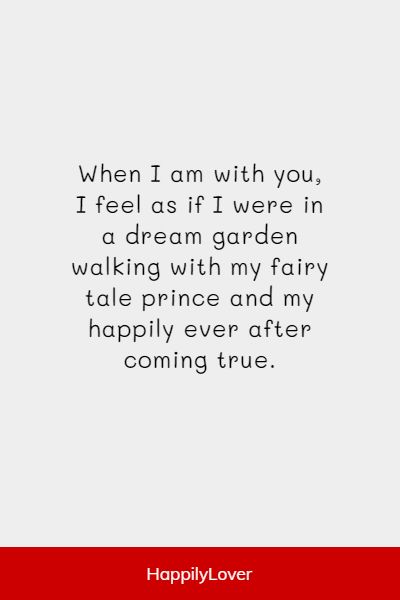 I often find that when my mind is idle, my thoughts keep drifting to your face.
I don't think of you as just a friend. I think of you as something more than that.
Your voice is music to my ears, your smile is a beauty to my eyes.
Don't be scared if a big fat man comes into your room and stuffs you in a bag… I told Santa I want you for Christmas!!!
Surely, I am being rewarded because I have you.
When I'm alone, I think of so many things to say to you, but when I have a chance to tell you, I go speechless.
There is something really special about you that I can't quite explain.
I have a crush on your mind. I fell for your personality. Your looks are just a bonus. Nicolas Sparks
Avoiding someone because you have a ridiculous crush on them.
Our little, stupid conversation means more to me than you think.
You never realize how much you like someone until you watch them like someone else.
Sorry boys, but I already have my eyes on a guy that isn't interested.
I look for your face in every person I see each day.
Just know that there is someone out there who really likes you and that someone might be standing right in front of you hoping that you have those same feelings for them too.
I can't get you off my mind, but maybe you're meant to be in my heart instead.
I never gave much thought to love songs until I met you and one day all of the singers knew exactly how I felt about you.
Lying in your loving arms is heaven on earth.
Let your loved one know how important they are to you with I love you more than words sure to make them smile.
Crushing Quotes
I pretended to look around, but I was looking at you.
I can't get you out of my mind and that's great.
You are someone worth waiting for.
Infatuation is the language of a beautiful eye upon a sensitive heart. Joseph Bartlett
You sat down next to me and I think I forgot how to breathe.
I'm terrified that you won't like me back but I'm even more terrified of losing out on the possibility of dating you if I sit back and say nothing.
I don't want to dream of you anymore. I want you for real.
I wonder what I look like in your eyes.
I love you, but you don't know it. I want to be with you, but I don't show it.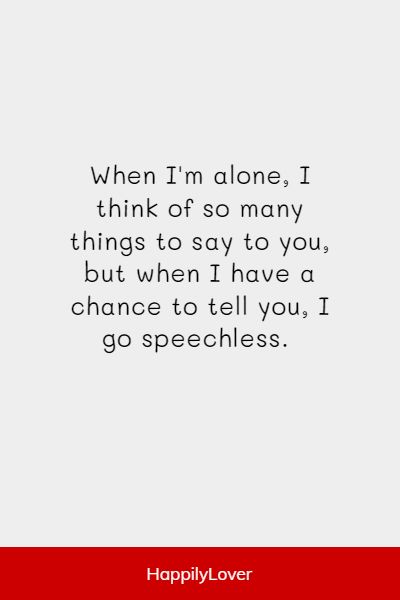 Please stop looking so attractive, I'm trying to stop liking you.
That moment when you and your crush look at each other at the same time and smile.
It's amazing how quickly your mood can change, how deep your heart can sink and how much one person can affect you.
I'm never ever giving you up, I'm never ever leaving you. Instead, I'll forever and ever love and cherish you.
Why do they call it a crush? Because that's how you feel when they don't feel the same way in return.
Words seem useless when I open my mouth to try to describe how I feel about you. I don't know what it is about you, but you turn my world.
What she had realized was that love was that moment when your heart was about to burst. Steig Larsson
You were my kind of happiness; I would lie awake dreaming about the way your eyes look.
I now know that miracles do happen because I met you.
There is no one else I would rather be with forever and ever besides the hazel-eyed woman.
There is no better way to keep your connection strong than saying how much you mean to me.
Crush Quotes About Catching Feelings
You are simply an angel on earth.
I'll never get over the stupid feeling I get every time you sign on. The one where I think maybe, just maybe…you'll talk to me first.
I don't know how to explain it but I think that we are meant to be together.
I just want to be the girl you like.
He's like a song she can't get out of her head.
A guy and a girl can be just friends, but at one point or another, they will fall for each other … Maybe temporarily, maybe at the wrong time, maybe too late, or maybe forever.
It's getting harder and harder to hide my feelings for you.
I still got a crush that's obvious. The Neighborhood
I always hope you're looking at me while I'm looking away.
And I hope sometimes you wonder about me. Taylor Swift
You are the honey to my tea and the cream to my coffee. You add sweetness and light to my life.
I love the way your eyes tell me all that you need to tell me, it truly makes me happy, really.
I'm still trying to get over a guy I never even dated.
You are the one I will always look forward to being with whenever I feel lonely and alone.
Thank you for stealing my eyes from the crowd and stealing my heart from me.
I was praying that you and I might end up together…It's like wishing for rain as I stand in the desert.
I have a little secret tale, if I say it out I 'm afraid to fail. But you look lovely and true, so I'm just saying I have a crush on you.
I think I love you so what am I so afraid of? The Partridge Family
The mark of a true crush… is that you fall in love first and grope for reasons afterward. Shana Alexander
I am already very much grateful for the happiness you brought into my life whenever you smile at me.
I loved you, I love you, I will always love you forever and ever.
You have sweetened and warmed up my life.
If you don't stop staring at a girl you cannot have, you will never see one you can.
Whether you are in a new relationship or celebrating many years of being together, these inspiring and romantic miss you quotes will put a smile on your loved one's face
Crush Quotes Celebrating Love
I can't imagine my life before I saw your face.
Oh please say to me you'll let me be your man; And please say to me, you'll let me hold your hand. The Beatles
Love took me by surprise, love led me to you, and love opened up my eyes. Michelle Branch
To be your friend was all I ever wanted; to be your lover was all I ever dreamed. Valerie Lombardo
You are the icing on my cake, the A to my Ok and the heart to my soul.
Reaching for your hand brings me such joy and knowing that you are mine forever brings me peace.
And when you love someone you don't always see them realistically. P. C. Cast
When I heard you liked me I couldn't believe it because it would be too perfect if you knew I liked you too.
Love hurts when you break up with someone. It hurts even more when someone breaks up with you. But love hurts the most when the person you love has no idea what so ever.
I don't want to miss this opportunity to tell you that the moment I saw you, I felt my heart create a new rhythm.
I'm afraid to lose you and you're not even mine. Drake
Love is the greatest refreshment in life. Pablo Picasso
Whatever our souls are made out of, his and mine are the same. Emily Bronte
You stole my heart, but I'll let you keep it.
Love is a friendship set to music. Joseph Campbell
You are the last person I thought I would fall for and at the same time, falling for you makes all the sense in the world to me.
I wish that I could stop thinking about you, but it is impossible to get you out of my mind lately.
Something about the idea of you and me makes sense to me.