There are endless ways to show your feelings and keep the romance alive. Beautiful love text messages for her will touch her heart with words, make her feel special and make your partner swoon.
Do you ever wake up in the morning and feel like your heart is so full of love for the special someone in your life, but you just can't find the words to express it? We've got you covered. From heartfelt love texts to romantic love messages, these sweet love texts for her will show your beloved just how much you care.
If you're looking for a way to express your love to your special lady, you've come to the right place! Whether you want to surprise her with a sweet text message, a romantic love letter, or an intimate love message, these love texts for her will help you to make her smile! Whether you've been together for a few weeks or many years, these love text for her will make her feel like the most special woman in the world.
When you truly love someone, it may be hard to express those emotions through words. If you're at a loss for words to express just how you feel, I miss you text messages and thinking of you my love text capture what's so special about a deep and meaningful connection.
Table of Contents
Love Text Messages for Her
You make me forget how to breathe.
Nobody is perfect, but you're so close it's scary.
I feel safest and happiest when I'm in your arms.
I choose you every day, and I'm so lucky you choose me, too.
All I need is you right here.
I didn't know what marrying your best friend meant until I met you.
You're my first thought every morning and my last thought before I go to sleep.
I love you more than I did yesterday but not more than I will tomorrow.
You inspire a love in me that I never knew was possible.
Just so you know, I'm madly in love with you.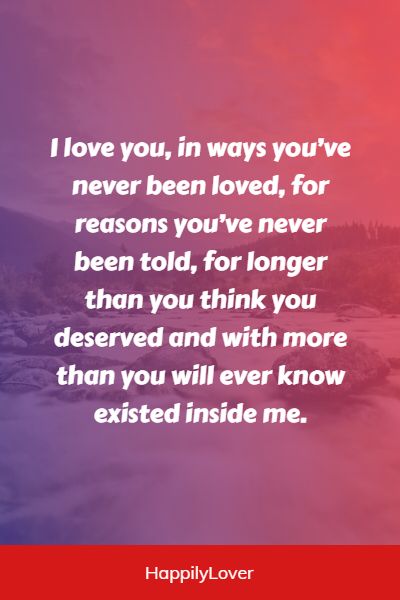 Counting the hours until we're together again.
I'm so completely in love with you. I wake to think of you, and I sleep to see you in my dreams. Every day seems like a blessing since I have met you. I feel so lucky and honored to be in love with you with all of my heart. Thank you for sharing your love with me. It's a truly wonderful gift. I will love you always.
It's a great feeling, knowing I have such a wonderful woman to spend the rest of my life with.
It was love at first sight, at last sight, at ever and ever sight. Vladimir Nabokov
If I could give you one thing in life, I'd give you the ability to see yourself through my eyes, only then would you realize how special you are to me.
I would rather spend one moment holding you than a lifetime knowing I never could.
You should be kissed and often, and by someone who knows how. Gone With the Wind
When I look into your eyes, I know I have found the mirror of my soul. Joey W. Hill
Finding love is hard. That's why I will hold on to you no matter what happens. You brought so much joy and happiness to my life, I promise to make you just as happy each and every day. My love for you grows with every breath I take.
I'm so incredibly thankful for the love that we share. You make every second of my life unforgettable. You rocked my world, and I will never get tired of speaking about how amazing you are.
The best way to find your own path in life is to share it with somebody else. I will never regret choosing you as my loyal companion, my love, and my hope. You make me want to continue my way no matter how hard it gets sometimes. When I look at you I see all the best things in my life. You are the reason I wake up in the morning and my last thought before I fall asleep. Thank you for being with me. I love you endlessly.
The most beautiful thing that ever happened to me is YOU. I love you so much, babe!
If you were a movie, I'd watch you over and over again.
I love you and I don't want to lose you. Because my life has been better since the day I found out.
Let your heart be filled with love and sweetness with these emotional deep love messages for her.
Love Text For Her
Each time you happen to me all over again. Edith Wharton
Even if I try, I won't be able to express the way I feel about you. Every day when I wake up, I feel so overwhelmed with happiness; I almost lose my breath. Thank you for making me so in love with you.
When the time comes, where I end up drowning myself in a bottomless ocean of thoughts, will you be my breath through the journey? Will you stay and guide me, all the way back to the surface? Lukas W.
If life is a game, then you're the only teammate I need.
When I'm with you, I feel like I can do anything. You make me feel so strong and capable.
I love the way you bring out the best in me and make me a better person.
When I look into your eyes, I feel like I can see the future – full of love and laughter.
You are my sunshine, my inspiration, my light in the dark. You bring joy to my life and fill me with happiness.
I never want to stop falling in love with you, each day brings a new reason to love you more.
I smile whenever I get a message from you.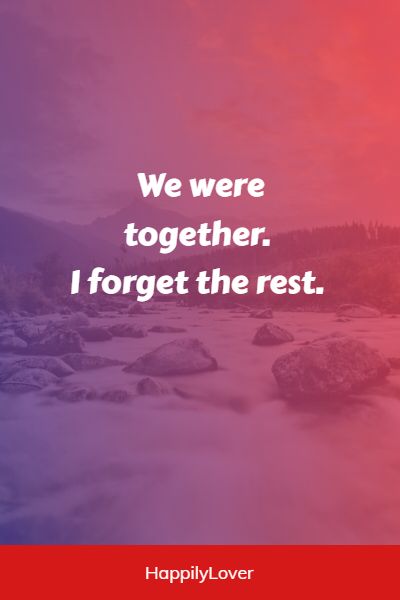 You may not love me like I love you, You may not care for me like I care for you But if you ever need me, I will always be around for you. If I had to choose whether to breathe or to love you, I would use my last breath to tell you that… I love you.
You make me feel alive every moment. You are the reason behind every joy and every smile of my life. You're the most amazing girl that I can spend the rest of my life with. Thanks for being mine. I love you so deeply!
Your love is the fire that lights up my life. I never thought I could be this happy – and it's all because of you. No matter what I do or where I go, I know I'm always going to have your love to come home to. You are my everything, my sweetheart, and I can't imagine life without your love.
I can't wait to come home to you tonight.
In a sea of people, my eyes always search for you.
But you've slipped under my skin, invaded my blood and seized my heart. Maria V. Snyder
My night has become a sunny dawn because of you. Ibn Abbad
I have never seen someone as graceful and elegant as you are. When I look at you, I understand what true love feels like. You give me goosebumps every time you smile. The day I met you is the happiest day of my life.
My dearest love, you are everything to me. I am so grateful to have you by my side and I want to let you know how much I love and appreciate you.
You spark joy in my heart and bring a smile to my face. You are the most special person in my life and I cannot imagine life without you.
Your gentle spirit, kind heart, and contagious laugh make me the happiest I have ever been. I love you endlessly and will always be here for you.
You have always told me that I'm surrounded by a giant amount of beautiful girls like they are supposed to attract me in any way. But the only girl I need is you, baby. It's impossible for me to even think of someone else because you are the love of my life. I miss you so very much.
You bring me so much joy each and every day. I just love you so much.
I like you a lot. Like, a lot a lot.
Whether you are looking for words to express what's in your heart for your special someone, or want to make your partner smile, these cute goodmorning texts for her will help you find the perfect words.
Sweet Messages For Her
I love seeing you happy and my biggest reward is seeing you smile.
No matter how busy I am, my heart never forgets to remind me of you. I love you, baby.
I love you more than pizza. And I really love pizza.
What on earth did I think about all the time before you?
I never loved you any more than I do, right this second. And I'll never love you any less than I do, right this second. Kami Garcia, Margaret Stohl
You are my sun, my moon and all my stars. E. E. Cummings
I've never met anyone before who treats me with such love, respect, and understanding. I hope I can someday learn to be as encouraging to you as you are to me. I love you so much!
You make me so alive. A million thanks to the most amazing woman I know.
Never forget, I love you now and forever!
I'm having one of those days that make me realize how lost I'd be without you.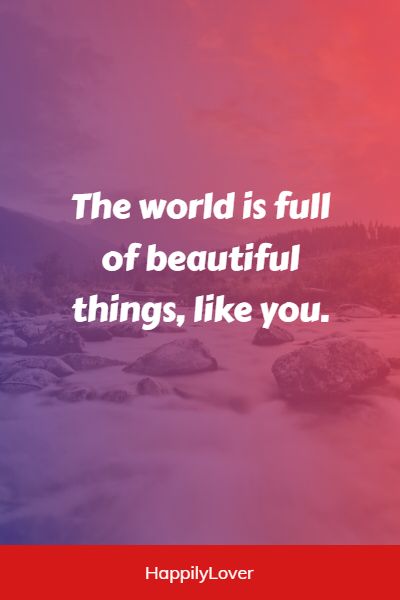 The more days go by, the more I fall in love with you. You are the Queen of my heart.
I am so lucky to have you by my side today, tomorrow, and forever.
If loving you was a job, I'd be the most deserving, dedicated, and qualified candidate. In fact, I'd even be willing to work for free!
You have bewitched me, body and soul, and I love, I love, I love you. I never wish to be parted from you from this day on. Pride and Prejudice
To me, you are perfect. Love Actually
They say love can't be seen; it can only be felt. But they were wrong. I have seen it many times. I have seen true love for me in your eyes. And it's the most beautiful thing I have ever seen!
You are the most precious person in my life; a once-in-a-lifetime find.
I've been thinking about you all day. Can't wait to see you later!
Do you know what the best girlfriend in the world deserves? She needs a caring, intelligent and affectionate man. My congratulations, you got me!
I never thought I'd run into someone like you. I never thought that a woman is as wonderful as you would like someone like me. But it all makes me realize that real love does exist and that I am lucky to have it.
You make my heart soar, my mind race, and my lips form a perfect smile.
Your smile is literally the cutest thing I've ever seen in my life.
I do know some things. I know I love you. I know you love me. Game of Thrones
It's enough for me to be sure that you and I exist at this moment. Gabriel Garcia Márquez
Here you will find some of the most romantic, tender, and heartfelt good night text for her that will make her heart melt and show her just how much you care.
Cute Texts For Her
I asked God to send me the best girlfriend in the world, but He sent me a wonderful woman, who has become my true friend, a passionate lover, a caring partner, and the one, without whom I cannot live! Thank you for being in my life.
Baby, if you're ever feeling down, just know you are so deeply loved.
My life has been brighter ever since we met.
Your cute smile can melt even the icy heart, which I have had before I met you. Thanks for all the happiness that you gave me, I love you.
You gave me a reason to live, dream, and fight. You make my days worth living. Thank you for being the only person who understands me!
There are a million ways to say how much I love you that I truly don't know where to start.
If someone asked me to describe you in just two words, I'd say "Simply Amazing."
And in her smile I see something more beautiful than the stars. Across the Universe
If sixty seconds would ever make a minute, and 24 hours would make a day, I want to spend it all with you throughout the year. I am best with you.
You light up my life like candles on a cake.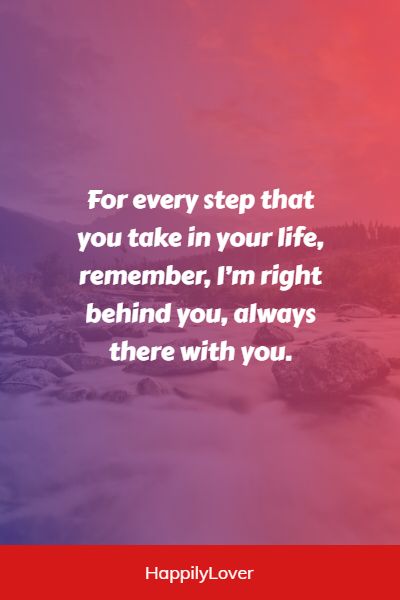 You know, I'm ready to kiss the whole world, for what it gave you to me. I couldn't dream of a more romantic, sensual, caring and sweet second half.
Even when I'm having a bad day, whenever I see your face I instantly feel better.
I don't want the world, I don't want the skies, I don't want the moon, I just want you in my share. Love you a lot, my love!
The best part of my day is your smile.
You do a million little things that bring joy to my life.
We are made of particles that existed since the moment the universe began. I like to think those atoms travelled 14 billion years through time and space to create us so that we could be together and make each other whole. The Big Bang Theory
I need you like a heart needs a beat. One Republic
I could say to you a thousand words on how much I really love you, and how absolutely wonderful you are, but still then it would not be enough. I love you more every day.
Our relationship may have its ups and downs, but I'm forever thankful for the roller coaster. I love you so much.
How did I get so lucky to end up with a woman like you?
I will always have this piece of my heart that smiles whenever I think about you.
You are the queen of my heart and the love of my life, and I cannot imagine my life without you.
Being with you is the easiest choice I have ever made, and I'm so lucky I get to make it every day.
Sometimes finding the perfect words can be a challenge. Express affection with long love paragraphs for her and make her blush.
Romantic Text For Her
I know fairy tales come true because I have you.
If my love were an ocean, there would be no more land. If my love were a desert, you would see only sand. If my love were a star–late at night, only light. And if my love could grow wings, I'd be soaring in flight. Jay Asher
It's always better when we're together. Jack Johnson
Your beauty mesmerizes me. Your sense of humor puts a smile on my face. Your kindness and compassion fill me with awe. My lady love, thank you for being all that I could ask for in a woman and so much more.
It's such an amazing feeling. My fears of never finding love evaporated the instant I saw you.
I don't think I've stopped smiling since we've met.
My sweet, what can be better than looking into your eyes and seeing there the reflection of your soul and a boundless love for me? You made me the happiest man on Earth.
Your beauty, intelligence, and your kindness make me fall in love with you every day! You are my everything.
I love you more every day.
There are only two times that I want to be with you: Now and Forever.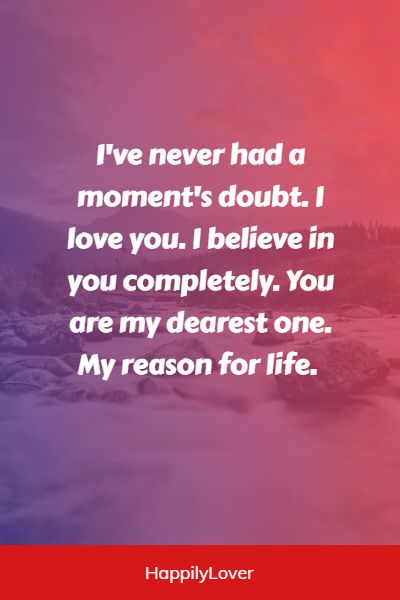 I want you. All of you. Your flaws. Your mistakes. Your imperfections. I want you, and only you. John Legend
You call it madness, but I call it love. Don Byas
I stop being anxious about tomorrow when I saw how wonderful my yesterday was and how glorious my today appears with you. It's your love all the way!
I loved you before I was born and I'll love you long after I'm gone.
Darling, I hope that this cute message will make you smile: I want you to know that things are changing in the world, but the only thing that will last forever is my love for you.
I can't stop loving you because it's the only thing I'm good at and the only reason I was sent here on earth. I love you!
I love your honesty, your passion, your resilience, your courage, your partnership, and your smile.
My six-word love story: "I can't imagine life without you."
I've never had a moment's doubt. I love you. I believe in you completely. You are my dearest one. My reason for life. Ian McEwan
When you look at me, when you think of me, I am in paradise. William Makepeace Thackeray
Heaven is when your warm tiny hands are holding mine. When you get angry because of me laughing at you. When you tell me about how your day went. Heaven is a place where I can be with you for the end of time. I love you more than anything and anyone in the world.
The day I met you, all my dreams came true. The wind felt softer, the sun shone brighter, and my world got so much bigger.
Roses are red, violets are blue, I love you so much and I hope you feel the same way too!
My heart for you will never break. My smile for you will never fade. My love for you will never end. I love you!
Share your love today and every day with the best love letter for her.
Touching Love Messages For Her
Your presence in my life is a lifetime blessing. You're the gift that I never dared to ask for. The love you have given me is more than I could ever imagine.
As we grow separately, we also grow together, and it's truly a privilege.
Stop making me think about you! I'm busy.
When I saw you I fell in love, and you smiled because you knew. Arrigo Boito
The day my life changed forever… The day I first saw you. The Longest Ride
Just when I thought of giving up to the fate that true love doesn't exist, you came and showed me the best of it. Thanks for being you for me.
You give me the strength and inspiration needed to notice wonderful things all around me.
You're my soulmate, my best friend, my partner, and my confidante. Thank you for that.
Cuddling with you would be perfect right now.
So, I love you because the entire universe conspired to help me find you. Paulo Coehlo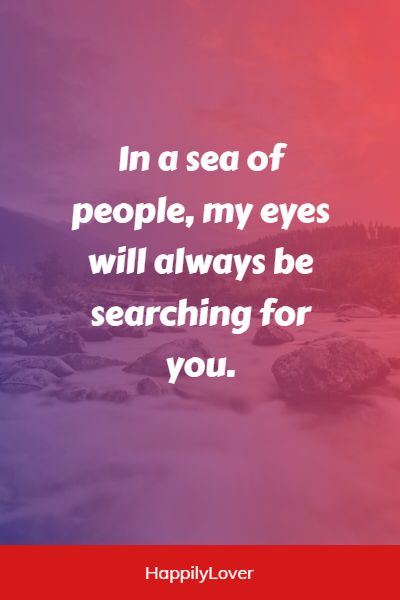 I love you — I am at rest with you — I have come home. Dorothy L. Sayers
I have never known anyone who actually believed that I was enough. Until I met you.
You are my first and only love.
I can't wait to marry you someday.
Sometimes it feels like I'm having a dream, but then I realize it's all real and I'm one lucky fellow in this beautiful world. Thank you for being mine!
I want to be your favorite hello and your hardest goodbye.
If nothing lasts forever, can I be your nothing?
I swear I couldn't love you more than I do right now, and yet I know I will tomorrow. Leo Christopher
You are my greatest adventure. The Incredibles
You deserve all of me. You deserve my morning, night, and noon. You deserve my present and future because you are my very best. I love you.
The only thing I cherish more than falling asleep with you is waking up by your side each and every morning.
I'm so excited to see what our future holds.
I thank god every day because he answered my prayer and gave me the most gorgeous woman in the world. I can't help myself from falling in love with you every day!
Whether it's best things to say to a girlfriend, or a simple reminder of your commitment with text wife, sending flirty texts for girlfriend will help you connect and deepen your bond.
Sweet Text For Her
Your smile takes my breath away. It took my breath away on the day we met, on our wedding day, today, and every day in between.
You make my heart melt!
If I had a flower for every time I thought of you, I could walk in my garden forever.
If I know what love is, it is because of you. Hermann Hesse
If I could be any part of you I would be your tears. Conceived in your heart, born in your eyes, live on your cheeks, and die on your lips.
There's nothing worse than a boring and dull relationship. I'd rather live a thousand lives being burnt by your fire than one devoid of passion.
You are so beautiful. Never doubt that.
You are the most beautiful woman I have ever known. I love you more than anything else in life! I feel like the luckiest man as I have you in my life. May God bless you and us together.
Thank you for teaching me what marrying your best friend means.
I couldn't ignore you even if I wanted to.
I don't care how hard being together is, nothing is worse than being apart. Josephine Angelini
Our love cannot be measured; it just is. John Paul Stevens
In this life or hereafter, wherever your love goes is where my heart in love with you will ever be. We are more than inseparable. I love you.
I'd move mountains for your sweet embrace.
Your smile is the reward I want to get every day. It is the only thing that keeps me breathing beautifully.
I wish every day you could see yourself the way I see you. Because I see you as absolutely perfect.
Next time I hug you, I probably won't let go for a long time.
I know by experience that the poets are right: love is eternal. E.M. Forster
There's no other person on this earth that I'd love to spend my life with. I love you.
I hope to spend all my tomorrows chasing your perfect smile.
You light up my world like nobody else, and I love that about you the most, sweetie. Tons of love.
When I put my arms around you, I never want to let you go.
I can't decide if the best part of my day is waking up next to you, or going to sleep with you. Hurry home so I can compare the two again.
Sometimes, I knock on the doors of your heart, just to make sure I still live there.
Do you want to express your deepest feelings to your sweetheart? Show her how much you care with sweet my queen quotes.
Cute Love Messages For Her
Love isn't something you find. Love is something that finds you. Loretta Young
Love is a miracle happening inside the heart; the miracle happened to me too, I have fallen in love with you at the moment when I saw you for the first time.
You are the love of my life, that I am certain of.
No matter how my day has been, all my anger and sadness seem to disappear as soon as I see you. I'm both glad and thankful to have you in my life.
My life was black and white until you came in and added color.
Everyone has their own motivation to get up in the morning and face the day. You are mine.
No matter what has happened. No matter what you've done. No matter what you will do. I will always love you. I swear it. C.J. Redwine
Love grows more tremendously full, swift, poignant, as the years multiply. Zane Grey
I wish you more than you wish me for the day. I wish you smiles and laughter birthed by sweet memories. Have the best of your day, dear.
Life is about navigating the tallest mountains and the steepest valleys.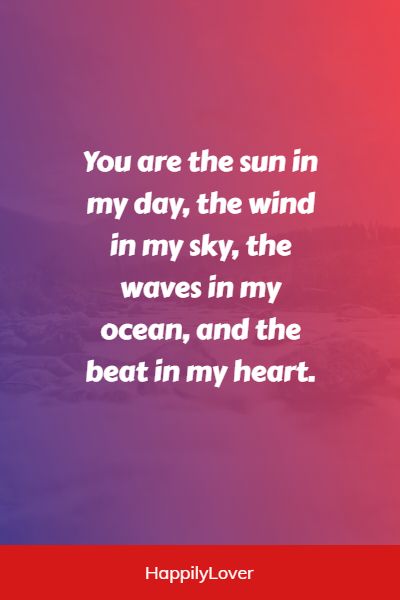 Thanks for rocking my world in every possible way. Love you to the moon and back, queen.
Whenever my phone vibrates, I hope you're the reason for it.
I am catastrophically in love with you. Cassandra Clare
Ever thine. Ever mine. Ever ours. Ludwig van Beethoven
When you feel alone, just look at the spaces between your fingers, and remember that's where my fingers fit perfectly.
I miss everything about you when we're not together. I cherish all the intimate moments we've ever had and look forward to experiencing the next.
By holding your hands tightly, I get the strength of conquering all my life problems. Stay with me always.
Forget the butterflies, I feel the whole zoo when I am with you!
And I've realized that the Beatles got it wrong. Love isn't all we need—love is all there is. Morgan Matson
True love stories never have endings. Richard Bach
Sometimes all I can think about is you. I'm so attached to you that I can't even imagine my life without you.
I've always heard that beauty mesmerizes men, but I never knew it to be true until you walked into my life.
Wish I could show you how much you mean to me. You're the one with whom I can fall in love over and over again.
I can't focus today, and I blame it on you. Because I can't stop thinking about you.
With these romantic love notes for her, you can express your heartfelt feelings and share your deep love with the person you care the most about.
Charming Text Messages For Her
The only time I stupidly smile at my phone is when I get text messages from you.
Promise me you'll never forget me, because if I thought you would, I'd never leave. A.A. Milne
Love does not consist in gazing at each other, but in looking outward together in the same direction. Antoine de Saint-Exupéry
Sometimes I just think back to the first time I laid eyes on you. I knew right then that I had found someone incredible. Ever since that very moment, all I have ever wanted was to be with you. No matter how dark my day is, seeing you always brighten it and makes me realize that with you, I am doing right.
I am completely and totally committed to this relationship.
The beauty in your eyes and the innocence in your face drive me crazy all the time. I want you in my life for today, tomorrow, and forever.
Tell me how you'll kiss me when I see you tonight.
What is love? It is what makes your cell phone ring every time I send text messages.
Your hand touching mine. This is how galaxies collide. Sanober Khan
When we love, we always strive to become better than we are. When we strive to become better than we are, everything around us becomes better, too. Paulo Coelho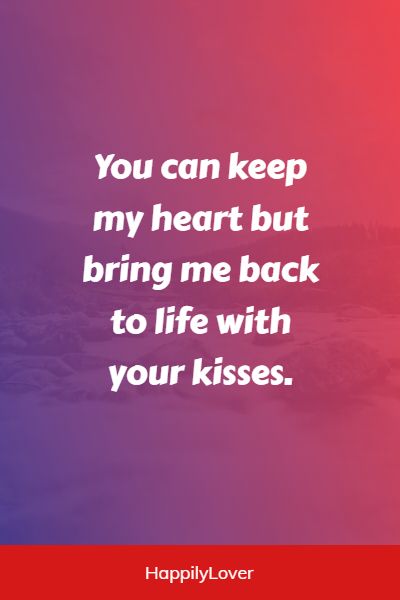 My love for you is so huge that sometimes I can feel it overflow my body and my mind. Sometimes I'm ready to burst because this burning feeling inside me doesn't ever calm down.
I know we all have to follow our own path in one way or another, but I'd rather share mine with you.
I heard from somewhere that the best way to figure out how important someone is to you is to try to picture your life without them. Well, you seem to be the most important person to me because I can't imagine my life without you at all.
Every time I think about you, my heart dances.
I always wake up smiling. I think it's your fault.
Love is like a virus. It can happen to anybody at any time. Maya Angelou
To be fully seen by somebody, then, and be loved anyhow — this is a human offering that can border on miraculous. Elizabeth Gilbert
I have always thought that a person can experience happiness once in a lifetime, but with you, I realized that happiness for me is every minute, every second, every romantic day that I spend with you and moments when I hold you in my arms.
What's love, you ask? It's a racing heart and a flood of endorphins every time you hear the cell phone ring.
As the flower needs the sunshine, I need you in my life. You make me bloom. You are the person I want to spend my life with.
It was hard to get out of bed this morning, because I just want to hold you forever.
I can't explain the way you make me feel when I hear your voice or see your face, but I adore it.
I wish I knew how to quit you. Brokeback Mountain
Express your emotions through romantic birthday letter for girlfriend and make her feel special.
Love Messages For Her To Make Her Happy
I saw that you were perfect, and so I loved you. Then I saw that you were not perfect and I loved you even more. Angelita Lim
I have always thought that love is a feeling, but only now I see that it's a deliberate choice. And I know for sure that I'll choose you no matter what. You're the one and only for me and we'll be together despite all odds.
All I want to do is spend time with you. The details don't matter.
I know our lives have pain and trouble. But when I am with you, I forget all the bad experiences. I want to walk with you on the shore holding your hand. I want to live a fairytale life with you. I want you by my side always.
A friendly reminder that you bring so much joy into my life, and I love you for it.
Just had to let you know…loving you is the best thing that happened to me.
Loved you yesterday, love you still, always have, always will. Elaine Davis
Don't ever think I fell for you, or fell over you. I didn't fall in love; I rose in it. Toni Morrison
When I tell you I love you, I don't say it out of habit or to make conversation, I say it to remind you that you are the best thing that ever happened to me.
Counting down the minutes until you're back in my arms.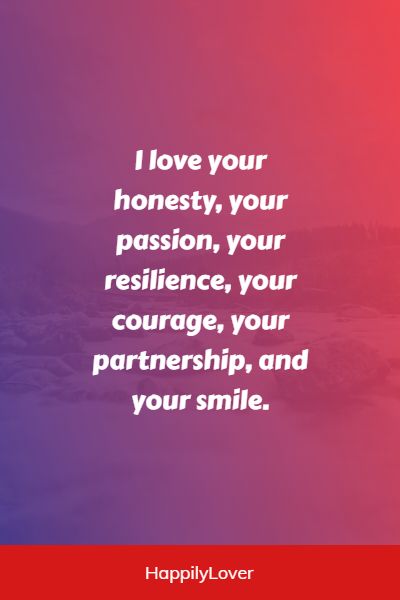 I want to say I love you in a thoroughly non-corny way, but nothing comes to mind, so let me just say this: I love you.
Can I borrow a kiss? I promise to give it back.
If you live to be a hundred, I want to live to be a hundred minus one day so I never have to live without you. A. A. Milne
Thank you for forgiving me when I've let you down, for believing in me when no one else did, and for sticking with me through thick and thin. I will always love you.
Just a reminder: I'm so incredibly in love with you.
I think you're cuter than any cat picture.
You are the finest, loveliest, tenderest, and most beautiful person I have ever known — and even that is an understatement. F. Scott Fitzgerald
I'm having a hard time focusing today. I just can't stop thinking about you.
Plans for the weekend? You, me, cuddling for 48 hours straight?
I used to not believe in soulmates. I'm here with you because you made me believe.
Morning without you is a dwindled dawn. Emily Dickinson
They say love hurts, but I'm ready to take that risk if it means that I'm going to be with you.
I can't stop wondering about what you're doing at this very moment. Call me when you get a chance so I can hear that sweet voice.