Famous inspirational quotes for women give you the strength and empowerment you need to tackle anything.
Table of Contents
Inspirational Quotes for Women
I believe in being strong when everything seems to be going wrong. I believe that happy girls are the prettiest girls. I believe that tomorrow is another day, and I believe in miracles. Audrey Hepburn
You have to be consistent. You have to be yourself. You have to be committed to what you're doing. You have to not be afraid to be ambitious. Roxane Gay
You educate a man; you educate a man. You educate a woman; you educate a generation. Brigham Young
It's not your job to be likeable. It's your job to be yourself. Someone will like you anyway. Chimamanda Ngozi Adichie
Whenever you see a successful woman, look out for three men who are going out of their way to try to block her. Yulia Tymoshenko
When we do the best we can, we never know what miracle is wrought in our life, or in the life of another.
Don't let anyone tell you that you can't do something. Especially not yourself. Mindy Kaling
Once you figure out what respect tastes like, it tastes better than attention. P!nk
Any woman who understands the problems of running a home will be nearer to understanding the problems of running a country.
If you obey all the rules, you miss all the fun. Katharine Hepburn
A flower does not think of competing with the flower next to it. It just blooms.
Life is not measured by the number of breaths we take, but by the moments that take our breath away. Maya Angelou
Surround yourself with people and things that inspire you. Learn everything you can. Jameela Jamil
Being an intellectual creates a lot of questions and no answers. You can fill your life up with ideas and still go home lonely. All you really have that really matters are feelings. That's what music is to me. Janis Joplin
Amazing things happen when women help other women.
Don't be afraid. Be focused. Be determined. Be hopeful. Be empowered. Michelle Obama
Life shrinks or expands in proportion to one's courage.
We need to accept that we won't always make the right decisions, that we'll screw up royally, sometimes understanding that failure is not the opposite of success, it's part of success. Arianna Huffington
If you don't like being a doormat, then get off the floor.
Women who seek to be equal with men lack ambition. Marilyn Monroe
We have to teach our girls that they can reach as high as humanly possible. Beyonce
Whatever you do, be different that was the advice my mother gave me, and I can't think of better advice for an entrepreneur. If you're different, you will stand out.
One of the biggest qualities is having an awareness outside of yourself and understanding that the world doesn't revolve around your needs. Brie Larson
A lot of people are afraid to say what they want. That's why they don't get what they want.
It's really important for us to be unapologetic. To be bold. To be brave. And to take huge risks. Awkwafina
A woman is like a tea bag you never know how strong she is until she gets in hot water.
Run your own race. Don't be distracted by what others are doing. Set and go after your own goals. Jen Gouldstone
I know God will not give me anything I can't handle. I just wish that He didn't trust me so much. Mother Teresa
Find your 'why' so that you have the strength and resilience to push through those times when everything else is telling you no. Lisa Wimberger
Destiny is a name often given in retrospect to choices that had dramatic consequences. J. K. Rowling
Everything is figureoutable. Marie Forleo
Powerful Inspirational Quotes for Women
I could not, at any age, be content to take my place by the fireside and simply look on. Life was meant to be lived. Curiosity must be kept alive. One must never, for whatever reason, turn his back on life. Eleanor Roosevelt
Those who have a strong sense of love and belonging have the courage to be imperfect. Brene Brown
I've come to believe that each of us has a personal calling that's as unique as a fingerprint and that the best way to succeed is to discover what you love and then find a way to offer it to others in the form of service, working hard, and also allowing the energy of the universe to lead you.
The warrior knows that her heartbreak is her map. Glennon Doyle
It was we, the people; not we, the white male citizens; nor yet we, the male citizens; but we, the whole people, who formed the Union Men, their rights and nothing more; women, their rights and nothing less. Susan B. Anthony
I can't think of any better representation of beauty than someone who is unafraid to be yourself. Emma Stone
A strong woman understands that the gifts such as logic, decisiveness, and strength are just as feminine as intuition and emotional connection. She values and uses all of her gifts. Nancy Rathburn
A strong woman looks a challenge dead in the eye and gives it a wink. Gina Carey
A woman is the full circle. Within her is the power to create, nurture and transform. Diane Mariechild
There were times I was underestimated a lot. It gave me a unique benefit. Elaine Welteroth
I want to do it because I want to do it. Women must try to do things as men have tried. When they fail, their failure must be but a challenge to others. Amelia Earhart
Why not take a chance and bet on happiness? Jenny Han
The best protection any woman can have is courage. Elizabeth Cady Stanton
Every time someone writes that I play 'strong women' what they're implying is that most women aren't. How about I just play well written parts? Jessica Chastain
We must believe that we are gifted for something, and that this thing, at whatever cost, must be attained. Marie Curie
We have to let go of the idea of balance in order to move toward the life we want. To do that, we need to recognize the stories we are telling ourselves that are holding us back. And sometimes we just have to stop telling ourselves our old stories. Tonya Dalton
The way in which we think of ourselves has everything to do with how our world see us and how we see ourselves successfully acknowledged by the world. Arlene Rankin
Your mindset can control you, or you can control it. It can reward you, or it can own you. You get to decide. What are you choosing? Leila Kashani
The question isn't who's going to let me; it's who is going to stop me.
In order to create change of any kind, we have to first change the way we view ourselves. The time we spend believing in ourselves, believing in something greater, and not deviating from our instincts is the most important investment we can make. This is our power; this is our light, and the world needs more of this. Alyssa Rosenheck
You have to believe in yourself when no one else does. Serena Williams
People think at the end of the day that a man is the only answer to fulfillment. Actually, a job is better for me.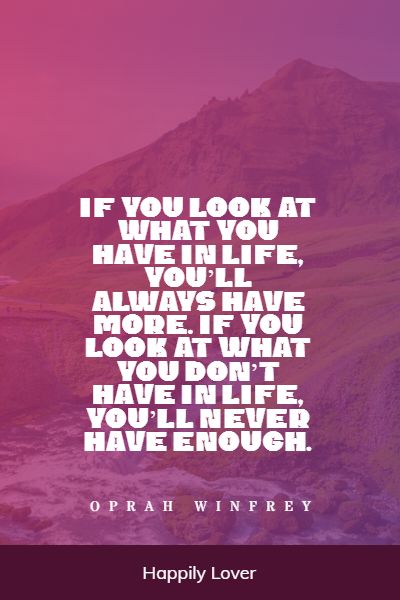 On my own I will just create, and if it works, it works, and if it doesn't, I'll create something else. I don't have any limitations on what I think I could do or be. Oprah Winfrey
If you look at what you have in life, you'll always have more. If you look at what you don't have in life, you'll never have enough. Oprah Winfrey
In a world that wants women to whisper, I choose to yell. Luvvie Ajayi
Whatever women do they must do twice as well as men to be thought half as good. Luckily, this is not difficult. Charlotte Whitton
Success requires competence and confidence. You must be good at what you do; and you must speak up and take credit for your work. One or the other just won't cut it. Michelle Bomberger
The most common way people give up their power is by thinking they don't have any. Alice Walker
No today doesn't mean no tomorrow. Yvonne Orji
One likes people much better when they're battered down by a prodigious siege of misfortune than when they triumph. Virginia Woolf
You never know if you can actually do something against all odds until you actually do it. Abby Wambach
You may encounter many defeats, but you must not be defeated. In fact, it may be necessary to encounter the defeats, so you can know who you are, what you can rise from, how you can still come out of it. Maya Angelou
Practice creates confidence. Confidence empowers you. Simone Biles
When one door of happiness closes, another opens; but often we look so long at the closed door that we do not see the one which has been opened for us.
It doesn't matter when you start, it doesn't matter what anyone else is doing. All that matters is that you truly follow your own path, your own way, at your own pace. Be kind to yourself and others and follow your intuition always. That is real bravery. Diana Shneider
Short Inspirational Quotes for Women
When you lose a couple of times, it makes you realize how difficult it is to win. Steffi Graf
Always aim high, work hard, and care deeply about what you believe in. Hillary Clinton
You move totally away from reality when you believe that there is a legitimate reason to suffer. Byron Katie
Celebrate the wins in life but never be complacent. Danielle Takata
Courage is like a muscle. We strengthen it by use. Ruth Gordon
Take one day a week for yourself and go off the grid. If smartphones are allowed to recharge, shouldn't we be allowed to as well? Elizabeth Borsting
Always go with the choice that scares you the most, because that's the one that is going to require the most from you.
Careers are a jungle gym, not a ladder. Sheryl Sandberg
Stop wearing your wishbone where your backbone ought to be.
Let your creativity be a river, not a destination. Elizabeth Gilbert
One of the most courageous things you can do is identify yourself, know who you are, what you believe in and where you want to go. Sheila Murray Bethel
Limit your 'always' and your 'nevers. Amy Poehler
Taking joy in living is a woman's best cosmetic. Rosalind Russell
Let your compassion fuel your passion. Achea Redd
Woman must not accept; she must challenge. She must not be awed by that which has been built up around her; she must reverence that woman in her which struggles for expression. Margaret Sanger
Once you've taken your seat at the table, it's your job to pull out a chair for the others, too. Look for the 'others.' Acknowledge them. Build a platform for them. Bianca Bass
You can have unbelievable intelligence, you can have connections, you can have opportunities fall out of the sky. But in the end, hard work is the true, enduring characteristic of successful people. Marsha Evans
All the people who knock me down only inspire me to do better. Selena Gomez
A woman with a voice is by definition a strong woman. But the search to find that voice can be remarkably difficult. Melinda Gates
Don't compare yourself. Your inside self will compare to everyone's outside self when facing a growth opportunity or anything new. Don't listen to the doubt that follows. If you're compelled, go for it. You're already at no; don't be your own speed bump. Sue Hawkes
A man's got to do what a man's got to do. A woman must do what he can't. Rhonda Hansome
Every day is a new opportunity to change your life and be who you want to be. Demi Lovato
We still live in a world in which a significant fraction of people, including women, believe that a woman belongs and wants to belong exclusively in the home. Rosalyn Sussman
You will not determine my story. I will. Amy Schumer
You have to have confidence in your ability, and then be tough enough to follow through. Rosalynn Carter
Don't be like the rest of them darling. Coco Chanel
Boss up and change your life. Lizzo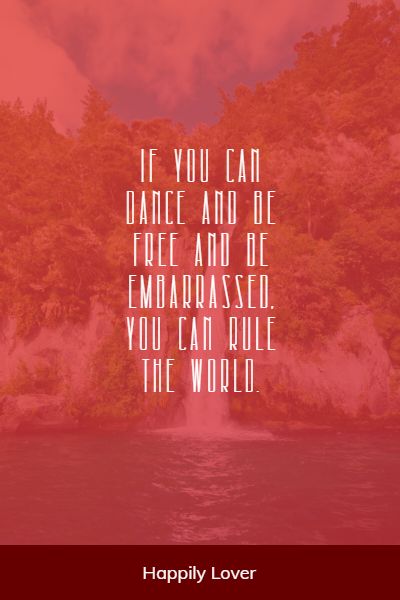 If you can dance and be free and be embarrassed, you can rule the world.
Stay committed and consistent and you will achieve your goals. Never give up. Kelly Rowland
Men selectively listen. When that happened, I'd stop the conversation and say, Do you realize I said that 10 minutes ago? Women have to take responsibility for the dynamic around them. You can't just say, Woe is me. Maggie Wilderotter
Your unique magnificence is blinding in its beauty. Kim E. Woods
A girl should be two things who and what she wants.
My best successes came on the heels of failure. Barbara Corcoran
Ignore the glass ceiling and do your work. If you're focusing on the glass ceiling, focusing on what you don't have, focusing on the limitations, then you will be limited.
When someone tells you that you can't, figure out how you can. Clarice Lam, chef and owner of The Baking Bean bakery
The most alluring thing a woman can have is confidence.