Motivational Christian quotes will uplift your spirits and change your life with faith and hope.
Table of Contents
Powerful Christian Quotes
God is most glorified in us when we are most satisfied in Him. John Piper
True faith means holding nothing back. It means putting every hope in God's fidelity to His Promises. Francis Chan
Be strong and courageous. Do not be afraid or terrified because of them, for the Lord your God goes with you; He will never leave you nor forsake you. Deuteronomy 31:6
God has a purpose behind every problem. He uses circumstances to develop our character. In fact, he depends more on circumstances to make us like Jesus than he depends on our reading the Bible. Rick Warren
Worry does not empty tomorrow of its sorrows; it empties today of its strength. Corrie Ten Boom
When we work, we work. When we pray, God works. James Hudson Taylor
In the midst of your battles, never forget that God loves you and He has a plan for you. Joyce Meyer
Everything may not be perfect. There are things that may need to change, but you have the grace to be happy today. Joel Osteen
It takes more courage to be humble than it does to be prideful. Matthew Hagee
Life is wasted if we do not grasp the glory of the cross, cherish it for the treasure that it is, and cleave to it as the highest price of every pleasure and the deepest comfort in every pain. What was once foolish to us a crucified God must become our wisdom and our power and our only boast in this world. John Piper
God loves each of us as if there were only one of us. Saint Augustine
God never said that the journey would be easy, but He did say that the arrival would be worthwhile. Max Lucado
Your life as a Christian should make nonbelievers question their disbelief in God. Dietrich Bonhoeffer
God's work done in God's way will never lack God's supplies. Hudson Taylor
If I walk with the world, I can't walk with God. D.L. Moody
God will meet you where you are in order to take you where He wants you to go. Tony Evans
Trust God for the impossible-miracles are His department. Our job is to do our best, letting the Lord do the rest. David Jeremiah
Let God's promises shine on your problems. Corrie ten Boom
You were made by God and for God, and until you understand that, life will never make sense. Rick Warren
Christ literally walked in our shoes. Tim Keller
Inspirational Christian Quotes
A little faith will bring your soul to heaven; a great faith will bring heaven to your soul. Charles H. Spurgeon
He is no fool who gives what he cannot keep, to gain what he cannot lose. Jim Elliot
Remember who you are. Don't compromise for anyone, for any reason. You are a child of the Almighty God. Live that truth. Lysa Terkeurst
Every Christian is either a missionary or an imposter. Charles H. Spurgeon
If you can't fly, then run, If you can't run, then walk, If you can't walk, then crawl, but whatever you do, you have to keep moving forward. Martin Luther King Jr.
Without God, we cannot. Without us, God will not. Saint Augustine
Our greatest fear should not be of failure but of succeeding at things in life that don't really matter. Francis Chan
The greatest miracle that God can do today is to take an unholy man out of an unholy world, and make that man holy and put him back into that unholy world and keep him holy in it. Leonard Ravenhill
If God is your partner, make your plans BIG! D.L. Moody
No healthy Christian ever chooses suffering; he chooses God's will, as Jesus did, whether it means suffering or not. Oswald Chambers
You are the only Bible some unbelievers will ever read. John MacArthur
We gain strength, courage, and confidence by each experience in which we really stop to look fear in the face. We must do what we think we cannot. Eleanor Roosevelt
He wants all or nothing. The thought of a person calling himself a 'Christian' without being a devoted follower of Christ is absurd. Francis Chan
He who lays up treasures on earth spends his life backing away from his treasures. To him, death is loss. He who lays up treasures in heaven looks forward to eternity; he's moving daily toward his treasures. To him, death is gain. Randy Alcorn
Does being born into a Christian family make one a Christian? No! God has no grandchildren. Corrie ten Boom
God does not give us everything we want, but He does fulfill His promises, leading us along the best and straightest paths to Himself. Dietrich Bonhoeffer
Is prayer your steering wheel or your spare tire? Corrie ten Boom
The Christian life is not a constant high. I have my moments of deep discouragement. I have to go to God in prayer with tears in my eyes, and say, O God, forgive me, or Help me. Billy Graham
Everywhere God is present, and always He seeks to discover Himself to each one. A.W.Tozer
Just because you go to church doesn't mean you're a Christian. I can sit in the garage all day and it doesn't make me a car. Joyce Meyer
Short Christian Quotes
If you believe in a God who controls the big things, you have to believe in a God who controls the little things. It is we, of course, to whom things look 'little' or big. Elisabeth Elliot
There is no one who is insignificant in the purpose of God. Alistair Begg
If you're going to be a Christian, you're going to change. You're going to lose some old friends, not because you want to, but because you need to. Johnny Cash
Relying on God has to start all over everyday, as if nothing has yet been done. C. S. Lewis
In order for the light to shine so brightly, the darkness must be present. Francis Bacon
This is our time on the history line of God. This is it. What will we do with the one deep exhale of God on this earth? For we are but a vapor and we have to make it count. We're on. Direct us, Lord, and get us on our feet. Beth Moore
Faith goes up the stairs that love has built and looks out the windows which hope has opened. Charles H. Spurgeon
The best thing about the future is that it comes only one day at a time. Abraham Lincoln
Give up your good 'Christian' life and follow Jesus. Garrison Keillor
Your potential is the sum of all the possibilities God has for your life. Charles Stanley
If you spend your whole life waiting for the storm, you'll never enjoy the sunshine. Morris L. West
The best and most beautiful things in this world cannot be seen or even heard, but must be felt with the heart. Helen Keller
Tears shed for self are tears of weakness, but tears shed for others are a sign of strength. Billy Graham
We are all faced with a series of great opportunities brilliantly disguised as impossible situations. Chuck Swindoll
In faith there is enough light for those who want to believe and enough shadows to blind those who don't. Blaise Pascal
Be faithful in small things because it is in them that your strength lies. Mother Teresa
The greater your knowledge of the goodness and grace of God in your life, the more likely you are to praise Him in the storm. Matt Chandler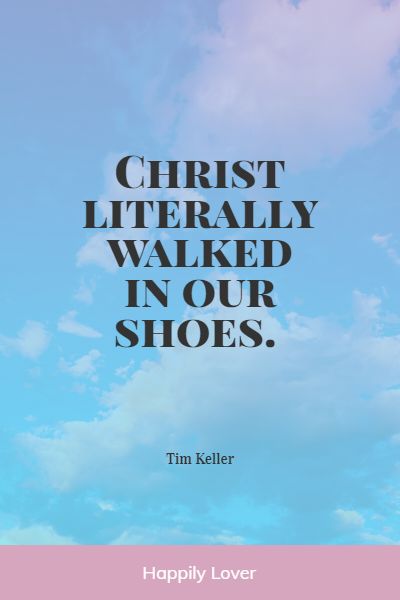 If Jesus had preached the same message that ministers preach today, He would never have been crucified. Leonard Ravenhill
Continuous effort not strength or intelligence is the key to unlocking our potential. Winston Churchill
The highest form of worship is the worship of unselfish Christian service. The greatest form of praise is the sound of consecrated feet seeking out the lost and helpless. Billy Graham
Beautiful Christian Quotes
Faith does not eliminate questions. But faith knows where to take them. Elisabeth Elliot
Christianity is a lifestyle. And being a Christian is more than a label. Joyce Meyer
The will of God will not take us where the grace of God cannot sustain us. Billy Graham
We must be global Christians with a global vision because our God is a global God. John R.W. Stott
We must remember we are stewards of what God has provided for us, not owners. Joyce Meyer
God is able to take the mess of our past and turn it into a message. He takes the trials and tests and turns them into a testimony. Christine Caine
It represents a Bible verse I wear on my shoe. Philippians 4:13. It says 'I can do all things through Christ who strengthens me.' It's also my mantra, how I get up for games and why I play the way I do. Stephen Curry
What gives me the most hope every day is God's grace; knowing that his grace is going to give me the strength for whatever I face, knowing that nothing is a surprise to God. Rick Warren
Before becoming a Muslim, a Hindu, a Sikh or a Christian, let's become a Human first. Guru Nanak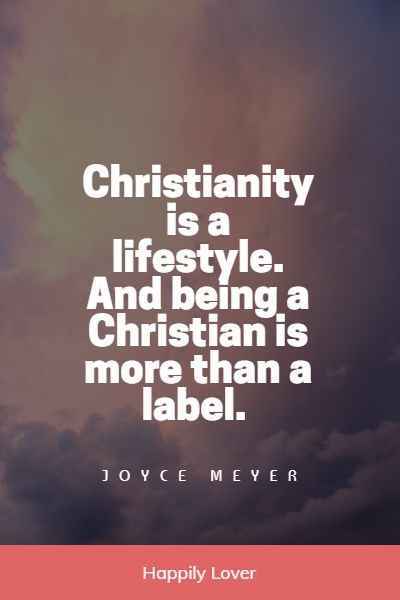 Remember Whose you are and Whom you serve. Provoke yourself by recollection, and your affection for God will increase tenfold; your imagination will not be starved any longer, but will be quick and enthusiastic, and your hope will be inexpressibly bright. Oswald Chambers
We can see hope in the midst of hopelessness. We can see peace in the midst of chaos. We have a hope that the world does not have. We can see clearly that all things work together for the good of them that love Him and are called according to His purpose. Priscilla Shirer
There is not a single thing that Jesus cannot change, control, and conquer because he is the living Lord. Franklin Graham
God doesn't take you in a straight line. There are twists and turns. It may not happen the way you thought, but the disappointments, the bad breaks are all a part of God's plan. Joel Osteen