Powerful God quotes will give you inspiration and a glance into His wisdom.
Table of Contents
God Quotes
Do not let your hearts be troubled. Trust in God; trust also in me. Jesus Christ
When I wake up every morning, I thank God for the new day. F. Sivil Jose
Sir, my concern is not whether God is on our side; my greatest concern is to be on God's side, for God is always right. Abraham Lincoln
God does not give us everything we want, but He does fulfill His promises, leading us along the best and straightest paths to Himself. Dietrich Bonhoeffer
God never ends anything on a negative; God always ends on a positive.
The great thing to remember is that though our feelings come and go, God's love for us does not. C.S. Lewis
God gave us the gift of life; it is up to us to give ourselves the gift of living well. Voltaire
God doesn't give you what you want He creates the opportunity for us to do so.
I just find myself happy with the simple things. Appreciating the blessings God gave me.
God is our refuge and strength. A very present help in trouble, therefore we will not fear.
Life is good because God is great.
He who says I'm alone had never listened to God who is always with him.
Every time you think you're being rejected, God's actually redirecting you to something better. Ask him to give you the strength to press forward. Nick Vujicic
.Don't forget to pray today, because God didn't forget to wake you up this morning.
God will never let us down because his love is unconditional.
God can turn water into wine, but he can't turn your whining into anything.
God has a bigger plan for me than I have for myself.
God, as Truth, has been for me a treasure beyond price. May He be so to every one of us.
God doesn't give you the people you want, he gives you the people you need. To help you, to hurt you, to leave you, to love you and to make you the person you were meant to be.
You may feel lost and alone, but God knows exactly where you are, and He has a good plan for your life.
When God gives you a new beginning, don't repeat the same mistake.
Powerful God Quotes
Seek God. Trust God. Praise God.
When you get down to nothing, God is always up to something.
Even before the sacrifice of Jesus, God was rich in mercy and slow to anger. James Bewley
God makes everything happen for a reason.
God my light, let my candle burn.
So all can see and live and learn.
Lord, never let me hide this flame.
So I can be with you in Jesus's name. Jason Kirk Bartley
No matter what has happened to you in the past or what is going on in your life right now, it has no power to keep you from having an amazingly good future if you will walk by faith in God. God loves you! He wants you to live with victory over sin so you can possess His promises for your life today! Joyce Meyer
For you are God, O Sovereign Lord. Your words are truth, and you have promised these good things to your servant. 2 Samuel 7:28
Trust that God will put the right people in your life at the right time and for the right reasons.
When we pray, God hears more than we say, answers more than we ask, gives more than we imagine, in his own time and in his own way.
Faith is trusting God even when you don't understand his plan.
Live your life for God and he will lead your life to a world full of love and true happiness.
God loves you more in a moment than anyone could in a lifetime.
Dear God, if one day I lose my hope and purpose, give me confidence that your destiny is better than anything I ever dreamed.
Don't worry about other people's opinions of you. God never told you to impress people; only to love them. Dave Willis
God gave us the ability to do, not just try. Catherine Pulsifer
If you walk with God, you will always reach your destination.
The Word of God is limitless and infinite.
You can hate me, or you can love me, but in the end, only God can judge me.
God gives us difficulties to bring out the best in us. Marvin J. Ashton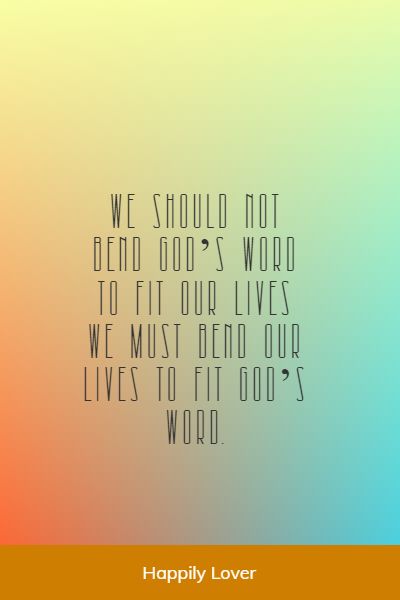 God represents himself through people who have lived according to the way he intended.
Never be afraid to trust an unknown future to a known God. Corrie ten Boom
God, sometimes takes us into troubled waters, not to drown us but to cleanse us.
Disappointments are just God's way of saying I've got something better. So be patient, have faith and live your life.
God is like the wind. We can't see him, but we know He's there.
God is love.
Commit your work to the Lord and he will crown your efforts with success.
Short God Quotes
God is always there when you are not looking.
God never takes away something from your life without replacing it with something better.
God always listen to your prayer Only we have to be patient for the answer.
Every happening, great and small, is a parable whereby God speaks to us, and the art of life is to get the message. Malcolm Muggeridge
God is kind to their people.
Be still and know that I am God. Psalm 46:10
Don't treat people the way they treat you. Treat people the way God treats you. Dave Willis
Whenever I am afraid, I will trust in You. Psalm 56:3
God is always with us like when you get scared God is right there to hold your hand.
God didn't bring you this far to abandon you.
Give God your weakness, He'll give you His strength.
God give me nothing I wanted. He gave me everything I needed.
Thank you God for everything in my life. The good and bad. Some were blessings and some were lessons.
We should not bend God's word to fit our lives we must bend our lives to fit God's word.
Every day is a gift from God. There's no guarantee of tomorrow, so that tells me to see the good in this day to make the most of it. Joel Osteen
God is like the parent, and you are his child learning how to walk. He's far away watching you, so when the day you fall or stumble. He's there to catch you.
You don't choose your family. They are God's gift to you, as you are to them. Desmond Tutu
Beautiful God Quotes
God will appear in a face you will imagine him to be, So don't be scared if you imagine him as your friend.
Those who leave everything in God's hand will eventually see God's hand in everything.
If you know the reality about God and human beings you will never prefer to live a temporary life in comforts compared to eternal life after death.
Pray as if everything depends on God But act as if everything depend on you.
God has a purpose for your pain, a reason for your struggle, and a reward for your faithfulness. Trust Him and don't give up.
God understands our prayers even when we can't find the words to speak them.
As we draw near to God, He will draw near to us. And day by day, the hope of God's light will grow within us. Dieter F. Uchtdorf
When a man takes one step toward God, he takes more steps toward that man than there are sands in the worlds of time.
Keep your head up. God gives his hardest battles to his strongest soldiers.
What God intended for you goes far beyond anything you can imagine.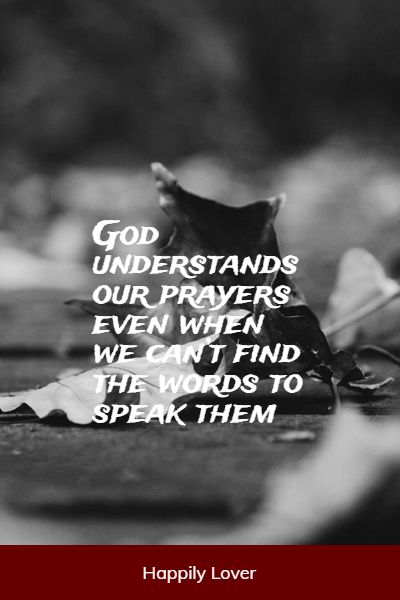 Prayer does not change God, but it changes him who prays. Soren Kierkegaard
Happiness, joy, and love, is a great sign of God's presence.
And He found you lost and guided you. Quran 93:7
God has given us two hands, one to receive with and the other to give with.