Since hair tells about our personality and style, it is such a big part of our lives. Our favorite hair quotes help you find your next captions or know more about what famous people think about it.
Table of Contents
Famous Hair Quotes
You're only as good as your last haircut. Fran Lebowitz
Some of the worst mistakes in my life were haircuts. Jim Morrison
Never underestimate the power of a good haircut.
Red hair, sir, in my opinion, is dangerous. P.G. Wodehouse
A woman who cuts her hair is about to change her life. Coco Chanel
Forget not that the earth delights to feel your bare feet and the winds long to play with your hair. Khalil Gibran
If I want to knock a story off the front page, I just change my hairstyle. Hillary Rodham Clinton
Happiness is a new haircut.
A new hairstyle is like new relationship: it makes you giddy, confident, & excited.
She was the most beautiful creature on Earth her hair said so in that language only hair can speak. Gabriel Bá
I have a new hairstyle today and it's called 'I tried my best.'
Relaxing your hair is like being in prison. You're caged in. Your hair rules you. You didn't go running with Curt today because you don't want to sweat out this straightness. You're always battling to make your hair do what it wasn't meant to do. Chimamanda Ngozi Adichie
The right hairstyle can make a plain woman beautiful, and a beautiful woman unforgettable. Sophia Loren
Tucker strokes my hair. There's something so tender about the gesture. It might as well have been him whispering I love you. Cynthia Hand
I think that the most important thing a woman can have next to talent, of course is her hairdresser. Joan Crawford
My hair had grown out long and shaggy not in that sexy young rock star kind of way but in that time to take Rover to the groomer kind of way. Jim Butcher
I don't need a hair stylist. My pillow gives me a new hairstyle every morning.
Hairdressers are a wonderful breed. You work one on one with another human being, and the object is to make them feel so much better, and to look at themselves with a twinkle in their eye. Vidal Sassoon
The worse the haircut, the better the man. John Green
It doesn't matter if your life is perfect as long as your hair color is. Stacy Snapp Killian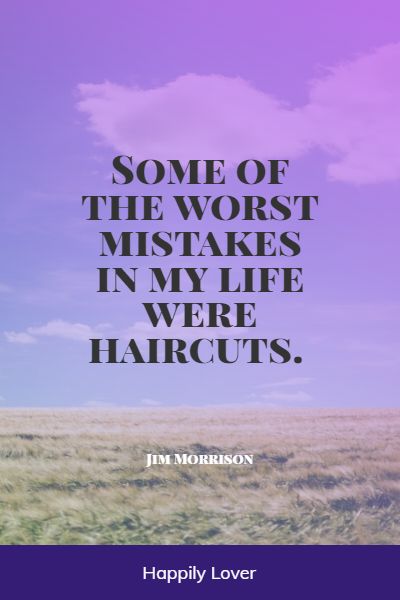 People always ask me how long it takes to do my hair. I don't know, I'm never there. Dolly Parton
Life is too short to have boring hair.
There's a reason why forty, fifty, and sixty don't look the way they used to, and it's not because of feminism, or better living through exercise. It's because of hair dye. In the 1950's only 7 percent of American women dyed their hair; today there are parts of Manhattan and Los Angeles where there are no gray haired women at all. Nora Ephron
A hair hopper is someone who pretends they're rich who really wasn't brought up very wealthy, but now tries to brag that they're rich, and they spend too much time on their hair. John Waters
Like some winter animal the moon licks the salt of your hand, Yet still your hair foams violet as a lilac tree From which a small wood owl calls. Tohannes Bobrowski
I dyed my hair blonde in that movie, so my head doesn't match my grill. Joe Pesci
Hair on a man's chest is thought to denote strength. The gorilla is the most powerful of bipeds and has hair on every place on his body except for his chest. Anton LaVey
Deep Hair Quotes
For me, hair is an accoutrement. Hair is jewelry. It's an accessory. Jill Scott
I stared at her black hair. It was shiny like the promises in magazines. Alice Sebold
Anyone can be confident with a full head of hair. But a confident bald man there's your diamond in the rough. Larry David
Your hair is winter fire, January embers. My heart burns there, too. Stephen King
My fashion philosophy is, if you're not covered in dog hair, your life is empty. Elain Boosler
Pull the hair on my head the wrong way, and I would be on my knees begging for mercy. I have very sensitive follicles. Benedict Cumberbatch
A great hairstyle is the best accessory.
Long hair will send you to hell! Hidekaz Himaruya
A good stylist is cheaper than a good therapist.
If my hair gets any frizzier, I'll shave it to the scalp. Or light it on fire. Whichever is easier. Victoria Scott
Life is more beautiful when you meet the right hairdresser. Peter Coppola
Symbolic of life, hair bolts from our head. Like the earth, it can be harvested, but it will rise again. We can change its color and texture when the mood strikes us, but in time it will return to its original form, just as Nature will in time turn our precisely laid out cities into a weed way. Diane Ackerman
So you don't want to change the color, and you don't want to go shorter, and you don't want extensions, but you're ready for a whole new look um okay.
The best advice I can give to young stylists is to marry bald, so you have one less free haircut to do on your day off.
The night crackled Everything had turned to static electricity in the heat. I combed my hair to watch the sparks fly from the ends. Janet Fitch
Life is short. You might as well live it with really great hair.
He had the prettiest hair she had ever seen on a man: dark brown, almost black, and soft like sable, it fell down to his shoulders. She wondered what he'd do if she threw some mud in it. Probably kill her. Ilona Andrews
For me, the working of hair is architecture with a human element. Vidal Sassoon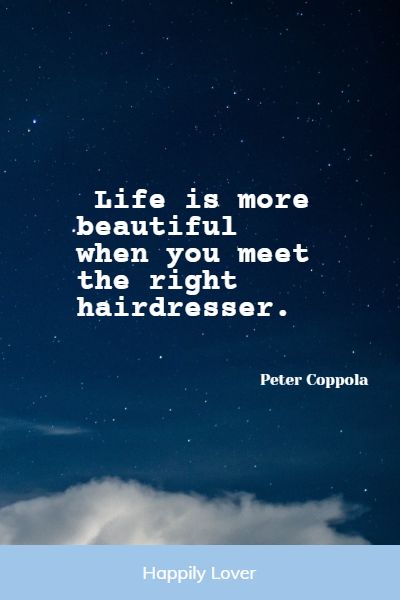 Naturally curly hair is a curse, and don't ever let anyone tell you different. Mary Ann Shaffer
People will stare. Make it worth their while. Harry Winston
There's a reason why forty, fifty, and sixty don't look the way they used to, and it's not because of feminism, or better living through exercise. It's because of hair dye. Nora Ephron
Her father sagged as relief spread through him. I thought something awful was happening. She frowned. Something awful was happening. It could have got stuck in my hair. Derek Landy
I consider myself someone who takes a lot of beauty risks, and I've realized what a liar I am. I change my hair a lot from blue to blonde to bald but I'm trying to branch out a little more with makeup. Halsey
And yonder sits a maiden, The fairest of the fair, With gold in her garment glittering, And she combs her golden hair. Heinrich Heine
When your hair won't listen to you and it's a mess and you're just like, 'I grew you myself. I gave you life and this is how you repay me?
All things old become new again. In my youth the athletes had crew cuts and the hippies had long hair. Now the athletes have long hair and the hippies are bald. Harley King
Hair Captions
Those aren't gray hairs. They're strands of glitter growing from my head.
Have you ever buried your nose in a mountain of curls, and just wanted to go to sleep forever? Bo Goldman
My style is definitely schizophrenic; it does change from day to day a lot. It depends on my mood sometimes, I'll be going through a girly, childlike stage and wear a pretty lace dress with a bow in my hair. Then sometimes, I'll be moody and just wear black. Amber Le Bon
No one likes it, apart from blind people, and I'm sure even they can sense it's profound ugliness as it passes by. Richard Curtis
I think every girl needs to love herself, regardless of anything. Like if you're having a bad day, if you don't like your hair, if you don't have the best family situation, whatever, you have to love yourself and you can't do anything until you love yourself first. Julianne Hough
People who worry about their hair all the time, frankly, are boring. Barbara Bush
Everybody has a bad hair day, but us girls still like to be told we look nice even if we don't feel like we do. Cat Deeley
Her own hair was a glory of copper fire that morning, shining like a whisky still, long and loose in gentle flames down her back. Elizabeth Wein, The Pearl Thief
I have short hair. It doesn't make me more unattractive than a woman or my sisters that have longer hair and are a bit lighter. Alex Wek
Guys who know how to use a blowdryer. Their hair is too long! Mallory hopkins
The short hair fits my personality more. I think maybe, with long hair, it was a role I was playing dress-up a bit. Natalie Maines
Those women deserve a prize who proudly wear natural hair and be comfortable with it.
A little gray hair is a small price to pay for this much wisdom.
Your hair generated as much oil that would be enough to make the fried chicken.
Hair brings one's self image into focus; it is vanity's proving ground. Hair is terribly personal, a tangle of mysterious prejudices. Shana Alexander.
Girls with red hair become irritated to explain to everyone that their hair color is not natural, they soak it in the blood every night.
I've had long hair, I've had short hair, and I've had in-between hair and it's all good. Morena Baccarin
I hate to buy a wig to wear that's why I cut my long hair and make a wig to wear.
I wish my hair was thicker, and I wish my feet were prettier. My toes are really ugly. I wish my ears were smaller. And my nose could be smaller too. Britney Spears
Hairstylists are like Disasters becomes a new style to follow.
If I want to knock a story off the front page, I just change my hairstyle. Hillary Rodham Clinton
Having good natural hair is not easy. A lot of artificial things are needed to make it more natural.
When God takes a shower, waterfalls come to life around the world. When I take a shower, my hair usually clogs the drain. Anthony T. Hincks
It is said that the first impression comes from the hair and the shoes. So concentrate on these things and express your personality.
If your hair is wild, then you might as well accept it before it bites your finger.
The people who says that money can't buy happiness surely never visit a hairdresser.
This morning, I woke up with the 'I'm not in the mood' hairstyle.
Good hair is the best revenge and speaks louder than the word.
Today, I feel like I should buy myself new hair and be done with it.
Love is in the hair. Let your hair down and let's have fun.
Having straight hair means getting out of bed ready for the day without having to do anything to my hair.
A lot of people make hair contact before eye contact.
Today's hairstyle is called, 'and I didn't brush my teeth either.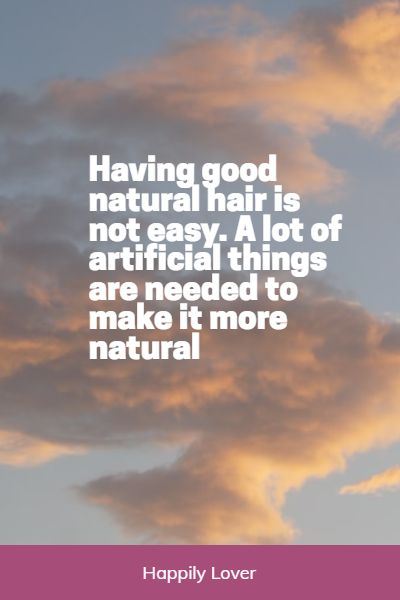 If anyone tells you your hair is too big, get rid of them. You don't need that kind of negativity in your life.
Let your hair be the window to the world inside your mind.
I have always thought that if women's hair posed so many problems, God would certainly have made us bald. Marjane Satrapi
Messy hair is just what happens when you have a wild heart.
My hair is a dog. Your argument is invalid.
Your hairstyle shows how ready you are for the day.
When you cut your hair and instantly regret it.
Your heart shows itself through your hair.