Deep faith in Good quotes will give you strength and encouragement you need to be better prepared for whatever life has in store.
There is no doubt that having faith in God is the best hope and assurance, it reminds that everything will be okay. Hope these meaningful quotes will strengthen your beliefs, even in the most difficult times.
HappilyLover Presents:
Transform Your Relationships with Self-love! Learn how nurturing self-acceptance can lead to more fulfilling connections. This e-book guides you on an empowering path to self-discovery and relational bliss.
Start Your Journey to Self-Love Now!
Table of Contents
Famous Faith In God Quotes
Let your life reflect the faith you have in God. Fear nothing and pray about everything. Be strong, trust God's word, and trust the process. Germany Kent
For God so loved the world, that he gave his only begotten Son, that whosoever believeth in him should not perish, but have everlasting life. John 3:16
No matter what your situation is or what circumstances you are facing, what matters is that God can save you from the gutter most to the uttermost. God is never late, but on time. Michelle Murray
Now faith is the assurance of things hoped for, the conviction of things not seen. Hebrews 11:1
Pray as though everything depended on God. Work as though everything depended on you. Saint Augustine
When you have faith in God, you don't have to worry about the future. You just know it's all in His hands. You just go to and do your best. Elder Bryan Mathison
Faith is taking the first step even when you don't see the whole staircase. Martin Luther King, Jr.
Faith is the bird that feels the light when the dawn is still dark. Rabindranath Tagore
Truly, I say to you, whoever says to this mountain, 'Be taken up and thrown into the sea,' and does not doubt in his heart, but believes that what he says will come to pass, it will be done for him. Mark 11:23
Let God's promises shine on your problems. Corrie ten Boom
HappilyLover Presents:
Unlock the Secret to Stronger Relationships with Self-Love! Explore how self-esteem shapes your interactions. This e-book offers essential insights into building a compassionate relationship with yourself, paving the way for healthier and happier connections with others.
Download Your Guide to Self-Love & Relational Harmony!
God never said that the journey would be easy, but He did say that the arrival would be worthwhile. Max Lucado
If you believe in a God who controls the big things, you have to believe in a God who controls the little things. It is we, of course, to whom things look 'little' or 'big.Elisabeth Elliot
Relying on God has to start all over everyday, as if nothing has yet been done. C. S. Lewis
God has a purpose behind every problem. He uses circumstances to develop our character. Rick Warren
Faith is letting down our nets into the transparent deeps at the Divine command, not knowing what we shall draw. Francois Fenelon
Remembering the goodness of God in the past, will help us in seasons where it's harder to see Him. Esther Fleece
I always pray for God's guidance in my life and he always provides it. He opens the right doors he shuts the right doors. And I have tremendous faith in him. He just guided my career in an amazing way. Ben Carson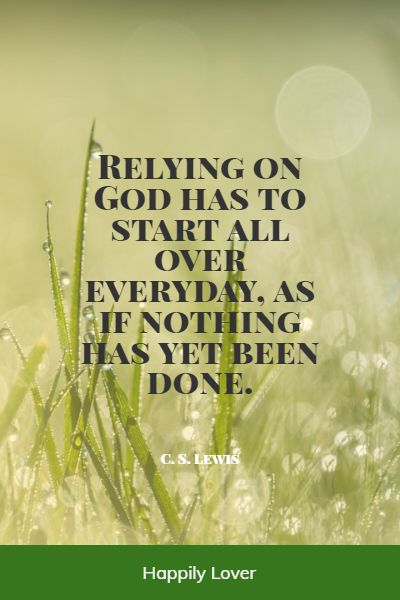 Keep the faith. The vision is always for the appointed time. Be patient, prayerful and wait for the fulfillment of your visions. Lailah Gifty Akita
The best remedy for those who are afraid, lonely or unhappy is to go outside, somewhere where they can be quite alone with the heavens, nature, and God. Anne Frank
God's breath is like a fresh wind that renews us. Frail and weak as we are, we have hope. We find healing. Jhiess Krieg
May God helps us to be thankful for our past; thankful for our present, but most of all thankful for the permanent. Which means, thank God for Himself. Steve Pease
I believe in a God who measures us for who we are in our hearts and not by what we have done. Floyd Kendall
We may not see it now but God is in control and has a reason for everything. William Hemsworth
When you are running toward Christ, you are freed up to serve, love, and give thanks without guilt, worry or fear. As long as you are running, you're safe. Francis Chan
Always, everywhere God is present, and always He seeks to discover Himself to each one. A.W. Tozer
To have faith is to trust yourself to the water. When you swim you don't grab hold of the water, because if you do you will sink and drown. Instead you relax, and float. Alan Watts
Inspirational Faith In God Quotes
When you walk with God, you will never be lost. Karen Gibbs
I trust in God, and His ways are not our ways. So we have to go with that, and there's nothing I can do about that. Cissy Houston
God has been there every step of the way. I praise God for His Strength in all things. Diane Winbush, Reflections of A Father
When you trust your inner guidance and begin moving in the direction of your dreams aligned with your individual gifts you will be cloaked in an armor bestowed upon you by your guardian angel. Charles F. Glassman
Worrying is arrogant because God knows what He's doing. Barbara Cameron
Before the throne of the Almighty, man will be judged not by his acts but by his intentions. For God alone reads our hearts. Mahatma Gandhi
HappilyLover Presents:
Elevate Your Relationships Through the Power of Self-Love. Learn how to cultivate self-worth and authenticity, creating a foundation for more genuine and supportive relationships.
Embark on Your Self-Love Adventure Today!
In other words, take the rubbish that life throws at you and turn it into something good with God's help. Olivia Hope
Never underestimate the power of Faith because when nothing seems possible, Faith makes it possible. Gift Gugu Mona
Fight your battles through prayer, And win your battles through faith. Luffina Lourduraj
God wants us to make the move – to initiate coming to Him. It is through coming to Him that we will be able to find rest for our souls. Amy Hagerup
I believe if you keep your faith, you keep your trust, you keep the right attitude, if you're grateful, you'll see God open up new doors. Joel Osteen
Lord, down in the vale of life, Build me up to You. Take away my pain and strife And make me brand new. Joshua Aaron Guillory
Where God guides, He provides. No matter how things look, God is still in control. Stay in peace and be hopeful. Your blessing is coming soon. Germany Kent
But we must believe God is listening, and our answers will come, by and by. Greta Zwaan
Remember, no storm will ever last a lifetime. Just hold on, be brave and have faith. Before you know it, the storm will be gone. Dianerste Ross
God has a purpose behind every problem. He uses circumstances to develop our character. In fact, he depends more on circumstances to make us like Jesus than he depends on our reading the Bible. Rick Warren
Worry is blind and cannot discern the future, but Jesus sees the end from the beginning. In every difficulty, He has His way prepared to bring relief. Ellen White
Faith in God is an opening up, a letting go, a deep trust, a free act of love but sometimes it was so hard to love. Yann Martel
HappilyLover Presents:
Transform Your Love Life by Starting with Yourself! Understand how self-love impacts every relationship. This e-book provides practical tools and exercises to build your self-esteem and enhance your connections with those around you.
Begin Your Path to Better Relationships!
Never be afraid to trust an unknown future to a known God. Corrie Ten Boom
Through hard work, perseverance and a faith in God, you can live your dreams. Ben Carson
The beginning of anxiety is the end of faith, and the beginning of true faith is the end of anxiety. George Mueller
There is never a moment when God is not in control. Relax! He's got you covered. Mandy Hale, The Single Woman Life, Love, And A Dash Of Sass.
Feed your faith and starve your doubts. Kenneth E. Hagin Sr
Faith does not eliminate questions. But faith knows where to take them. Elisabeth Elliot
Power of Faith Quotes
Faith talks in the language of God. Doubt talks in the language of man. E.W. Kenyon
Believe in yourself, and the rest will fall into place. Have faith in your own abilities, work hard, and there is nothing you cannot accomplish. Brad Henry
To seek His will is to search for His ways. Lailah Gifty Akita
God didn't make a mistake when He made you. You need to see yourself as God sees you. Joel Osteen
I have learned that faith means trusting in advance what will only make sense in reverse. Philip Yancey
We can't run away from pain, but when it happens, just pray and pray, only God can truly heal us best. You will be amazed in the end how it goes away. Terry Mark
Faith comes alive when the Word read from the page becomes the Word heard in your heart. Rex Rouis
We are a long time in learning that all our strength and salvation is in God. David Brainerd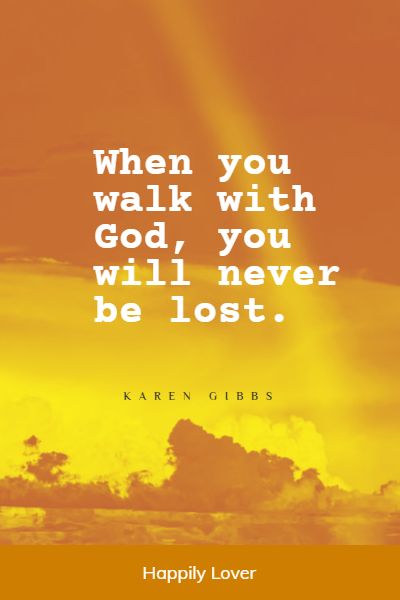 Don't let life bring you down. Remember that God gives you struggles to test your faith. Olivia Benjamin
Faith is a sounder guide than reason. Reason can go only so far, but faith has no limits. Blaise Pascal
If God called us to a task, He will then qualify us for the job. Jack Hyles
HappilyLover Presents:
Find Love Outside by Cultivating it Within! 'Self-Love: The Journey to Embrace Your Essence' is your roadmap to nurturing a deep sense of self-worth and bringing that love into every relationship you have.
Nurture Your Inner Self – Download Now!
If we cannot believe God when circumstances seem be against us, we do not believe Him at all. Charles Spurgeon
Faith never knows where it is being led, but it loves and knows the One who is leading. Oswald Chambers
God does not give us everything we want, but He does fulfill His promises, leading us along the best and straightest paths to Himself. Dietrich Bonhoeffer
When all is said and done, the life of faith is nothing if not an unending struggle of the spirit with every available weapon against the flesh. Dietrich Bonhoeffer
True faith means holding nothing back. It means putting every hope in God's fidelity to His Promises. Francis Chan
Faith is not the belief that God will do what you want. It is the belief that God will do what is right. Max Lucado
Faith consists in being vitally concerned with that ultimate reality to which I give the symbolical name of God. Whoever reflects earnestly on the meaning of life is on the verge of an act of faith. Paul Tillich
Faith expects from God what is beyond all expectation. Andrew Murray
Yes, we were given the free will to choose how to be, but we can still go back to the one who gave it to us for guidance on how to use it. Dr. Jacinta Mpalyenkana
Trials are medicines which our gracious and wise Physician prescribes because we need them; and He proportions the frequency and weight of them to what the case requires. Let us trust His skill and thank Him for His prescription.Isaac Newton
Just when you think you have no more faith God brings someone into you life that gives your faith back to you. Shanna Monceaux
If by faith you are in Christ, God is as much for you in Christ as He will ever be or could ever be. John Piper
Throughout the day, we have the choice to have faith that God is in control, meaning all that happens is for my greater good, or we can go around in fear, worried and negative expecting the worst. Rev J Martin
Faith is the strength by which a shattered world shall emerge into the light. Helen Keller
Faith is not the belief that everything will be all right tomorrow, but the belief that I possess the strength to make everything alright today. Charles F. Glassman
He that takes his cares on himself loads himself in vain with an uneasy burden. I will cast my cares on God; He has bidden me; they cannot burden Him. Joseph Hall
Faith and prayer are the vitamins of the soul; man cannot live in health without them. Mahalia Jackson
You can do amazing things if you have strong faith, deep desire, and just hang in there.
Spending time with God is the key to our strength and success in all areas of life. Be sure that you never try to work God into your schedule, but always work your schedule around Him. Joyce Meyer
By freely choosing to believe God's promises, a person's faith may be more strongly embraced and, therefore, less likely to falter in times of struggle, sadness, or other such difficulties.
What we hear and see through the filter of bias becomes our truth, while planting the seeds of conflict. Charles F Glassman
Our faith and trust must be like the disciples', leaving everything in God's hands.