In your life, you can need some conditions to do something. It is very normal because we have the capability of thinking and logic. But emotions are different. When you feel love, you don't need any conditions.
Unconditional love means appreciating someone for who they truly are. Your affection is continuous without any conditions and limitations.
When you love a person unconditionally, you will not only accept their flaws, but also want to help them achieve their dreams and be there for them.
Inspirational quotes about unconditional love will reflect your feelings and help you say I love you unconditionally and my love for you is unconditional.
Table of Contents
Best Unconditional Love Quotes
The only way love can last a lifetime is if it's unconditional. The truth is this: love is not determined by the one being loved but rather by the one choosing to love. – Stephen Kendrick
Unconditional love really exists in each of us. It is part of our deep inner being. It is not so much an active emotion as a state of being. It's not 'I love you' for this or that reason, not 'I love you if you love me.' It's love for no reason, love without an object. – Ram Dass
Love is unconditional: it is neither aroused nor diminished by the other's value or qualities; it is a spontaneous gift that seeks nothing for the giver. – Simon May
You can try to love someone unconditionally by not expecting anything in return at all. – Unknown
Out of all the love in the world, it is unconditional love that I want to have the most. – Unknown
Because someone doesn't love you the way you want them to doesn't mean they don't love you with all they have. – Unknown
Love me without restriction. Trust me without fear. Want me without demand. Accept me for who I am. – Unknown
Find someone who is proud to have you. Scared to lose you, fights for you, appreciates you, respects you, cares for you and loves you unconditionally. – Unknown
In unconditional love, one gives space to the counterpart without being suspicious about each other. – Unknown
Unconditional love never fails any test. It can struggle, but the bond cannot be broken. – Unknown
They say you have to earn the right to be loved; no, love is unconditional, if you love someone, they don't have to earn it. But. The right to tell someone that you love them? That has to be earned. You have to earn the right to be believed. – C. JoyBell C.
To be brave is to love someone unconditionally, without expecting anything in return. – Madonna
You can give without loving, but you cannot love without giving. – Amy Carmichael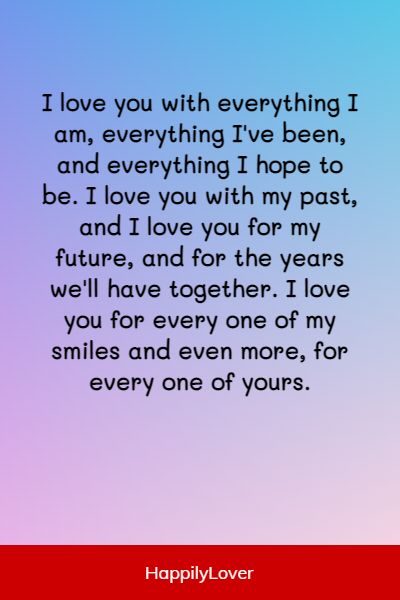 I have found the paradox, that if you love until it hurts, there can be no more hurt, only more love. – Mother Teresa
Don't settle for a relationship that won't let you be yourself. – Oprah Winfrey
As I'm getting older, I'm really learning unconditional love and loyalty are extremely important. – Bindi Irwin
I love you with everything I am, everything I've been, and everything I hope to be. I love you with my past, and I love you for my future, and for the years we'll have together. I love you for every one of my smiles and even more, for every one of yours. – Unknown
The greatest gift that you can give to others is the gift of unconditional love and acceptance. – Brian Tracy
I believe that unarmed truth and unconditional love will have the final word. – Unknown
There is no greater power in Heaven or on Earth than pure, unconditional love. The nature of the God force, the unseen intelligence in all things, which causes the material world and is the center of both the spiritual and physical plane, is best described as pure, unconditional love. – Wayne Dyer
I love you means that I accept you for the person that you are and that I don't wish to change you into someone else. It means that I do not expect perfection from you, just as you don't expect it from me. I love you means that I will love you and stand by you even through the worst of times. It means loving you when you are in a bad mood or too tired to do the things I want to do. It means loving you when you are down, not just when you're fun to be with. – Deanne Laura Gilbert
"I love you" means I'm not just here for the pretty parts. I'm here no matter what. – Unknown
I'm selfish, impatient and a little insecure. I make mistakes, I am out of control and at times hard to handle. But if you can't handle me at my worst, then you sure as hell don't deserve me at my best. – Marilyn Monroe
The beginning of love is to let those we love to be perfectly themselves and not to twist them to fit our own image. Otherwise, we love only the reflection of ourselves we find in them. – Thomas Merton
Actual love, as in unconditional love, doesn't mean you love everything about that person. It means you don't need them to be different than they are for you to be happy. – Unknown
When someone else's happiness is your happiness, that is love. – Lana Del Rey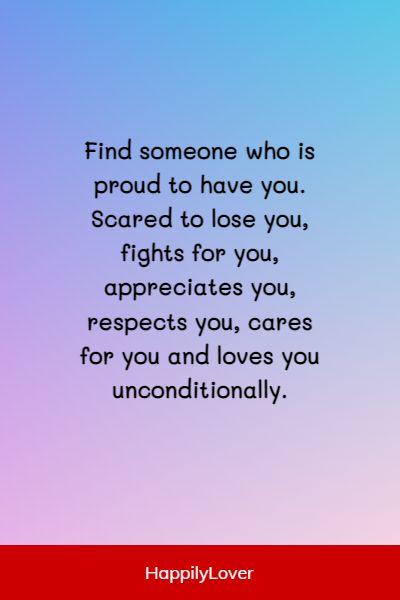 If someone is facing a difficult time one of the kindest things you can do for him or her is to say I am going to love you through this. – Molly Friedenfeld
Unconditional love is the greatest gift of all. – Sylvia Massara
Love is when the other person's happiness is more important than your own. – H. Jackson Brown, Jr.
Once you learn to accept and love them for who they are, you subconsciously learn to love yourself unconditionally. – Yvonne Pierre
Fall in love with someone who will take care of your heart and keep it safe from harm. Someone who opens up their soul and doesn't keep any secrets from you. Someone who brings you happiness and makes you laugh. – Unknown
Better to have loved and lost than never to have loved at all. – Ernest Hemingway
We love the things we love for what they are. – Robert Frost
I don't want someone who stands next to me because they are lonely. I want someone who stands next to me because they can't imagine standing next to anyone else. – Mr. Burr
Imagine meeting someone who wanted to learn your past, not to punish you, but to understand how you needed to be loved. – Unknown
When two givers indulge in a connection, it's magic. It's alchemy. I water you. You water me; we never drain each other. We just grow. – Unknown
When two souls fall in love, there is nothing else but the yearning to be close to one another. The presence is felt through a held hand, a voice heard and the sign of a smile, even through a simple touch. Souls do not have calendars or clock, nor do understand the notion of time or distance. – Lang Leav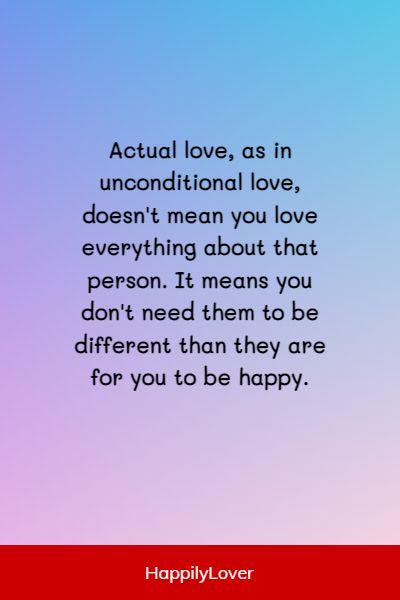 I have found the paradox that if you love until it hurts, there can be no more hurt, only more love. – Mother Teresa
It's the shoulder kisses and cooked breakfasts and the drive safe – Unknown
It's those little things that for some reason make you feel more loved than you have ever before. It's easy to plan an elaborate night out, but when someone can make you feel so happy just by doing the smallest things, that's when you know you've got something special. – Unknown
Without a doubt, I miss you quotes will melt your sweetheart's heart!
Short Unconditional Love Quotes
Intense love does not measure, it just gives. – Mother Teresa
When someone else's happiness is your happiness. That is love. – Lana Del Rey
It's better to be unhappy alone than unhappy with someone. – Marilyn Monroe
The greater your capacity to love, the greater your capacity to feel the pain. – Jennifer Aniston
Hearts will never be practical until they are made unbreakable. – The Wizard of Oz
It was a million tiny little things that, when you added them all up, they meant we were supposed to be together… and I knew it. – Tom Hanks
One is loved because one is loved. No reason is needed for loving. – Paulo Coelho
Love is when the other person's happiness is more important than yours. – H. Jackson Brown, Jr.
Love is the doorway through which the human soul passes from selfishness to service. – Unknown
Love recognizes no barriers. It jumps hurdles, leaps fences, penetrates walls to arrive at its destination full of hope. – Maya Angelou
Unconditional Love is the outer expression of Inner Peace. – Alaric Hutchinson
Love hard when there is love to be had. Because perfect guys don't exist, but there's always one guy that is perfect for you. – Bob Marley
Darkness cannot drive out darkness: only light can do that. Hate cannot drive out hate: only love can do that. – Martin Luther King Jr.
Unconditional love is an illogical notion, but such a great and powerful one. – A.J. Jacobs
Your heart is free, have the courage to follow it. – Braveheart
Before I met you, I never knew what it was like to be able to look at someone and smile for no reason. – Unknown
If I could give you one thing in life, I would give you the ability to see yourself through my eyes, only then would you realize how special you are to me. – Unknown
Yes, I love you. I love you more than anything else in this world, and there is nothing I would like better than to hold onto you forever. – Unknown
Every night before sleeping I pray to god to keep you happy, safe and healthy. – Unknown
I was placed in this universe to love you, and I don't take something that important lightly. – A.R. Asher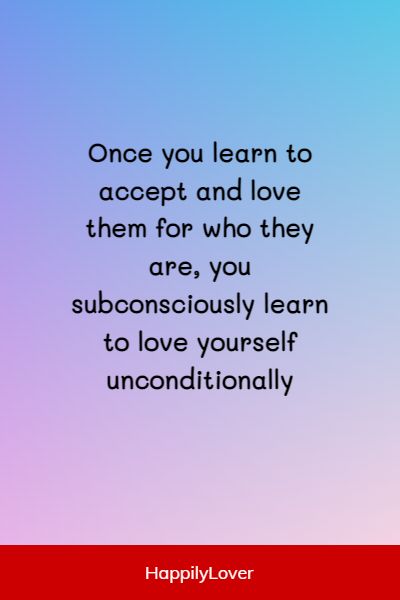 I know of no greater happiness than to be with you all the time, without interruption, without end. – Franz Kafka
The unconditional love of God leads to a life of freedom and transforms each day into a potentially wild adventure. – Randy Elrod
Unconditional love is hard to compete with. – Abbi Glines
As we grow older together, as we continue to change with age, there is one thing that will never change. I will always keep falling in love with you. – Karen Coldfelder
I love you without knowing how or when or from where. I love you simply, without problems or pride. – Pablo Neruda
If you want to convey all the love you have in your heart, soulmates quotes help you say it perfectly!
Unconditional Love Quotes for Her
Love! There is no falling in or out of it. When you truly love, it never dies. Love is eternal; it's sacred, it's a way of life… Not some temporary feeling that loses its truth over time. People only fall out of love when they never truly loved to begin with. – Unknown
In every relationship, there's going to be arguments, fights, smiles, tears, and up and downs, things said out of anger, crazy exes, attitudes, and jealousy. But at the end of the day, if you truly love that person, you will stick around through the good and bad. – Unknown
The moment I laid eyes on you, my world changed. All I could see was beauty around me. All I felt was pure bliss. All that I wanted to do was to love you. – Unknown
The greatest feeling in the world is to be around someone who wants to hold you, to kiss your forehead and to be around you; who wants to call you at night, to see you smile. But, what's better than that is finding someone that does it all, because he wants to see you happy. – Unknown
Remember, in our inmost being, we are all completely lovable because spirit is love. Beyond what anyone can make you think or feel about yourself, your unconditioned spirit stands, shining with a love nothing can tarnish. – Deepak Chopra
You know it's love when all you want is that person to be happy, even if you're not part of their happiness. – Julia Roberts
Love means never having to say you're sorry. – Ali MacGraw
I am purely in love with you. I think of you all the time and I dream about you every night. Your touch and your kiss are etched in my mind. Baby, all I want to know is will you be forever mine? – Unknown
Love hard when there is love to be had. Because perfect guys don't exist, but there's always one guy that is perfect for you. – Bob Marley
You are the first thing that I think about each day. You are the person I dream about each night. You are the inspiration that keeps me going every day. – Unknown
Love… what is love? Love is to love someone for who they are, who they were, and who they will be. – Chris Moore
I don't want to lose you in my life. You are the stars in my sky and the sun to my world. You are the reason I survive. – Unknown
I refuse to let what happened to me make me bitter. I still completely believe in love and I'm open to anything that will happen to me. – Nicole Kidman
Love to me is someone telling me, 'I want to be with you for the rest of my life, and if you needed me to I'd jump out of a plane for you.' – Jennifer Lopez
Love is the ability and willingness to allow those that you care for to be what they choose for themselves without any insistence that they satisfy you. – Wayne Dyer
I do not want to change anything in you; I love you the way you are. – Unknown
My heat is full and bursting with joy every time I think about you. I go crazy when you're not with me. – Unknown
You have the heart that loved me at my worst and the arms that held me at my weakest. – Unknown
Sharing this adventure with you is definitely the best time of my life. Having you as my partner not only makes me stronger, but it also brings out the best in both of us. – Unknown
I know the second I met you that there was something about you I needed. Turns out it wasn't something about you at all. It was just you. – Jamie McGuire.
Two people in love, alone, isolated from the world, that's beautiful. – Milan Kundera
Don't forget I'm just a girl, standing in front of a boy, asking him to love her. – Notting Hill
You don't marry someone you can live with – you marry the person who you cannot live without. – Unknown
I'm not perfect. But I love you. I really do. And I promise to be your best friend, your partner in crime and your lover. – Unknown
I'm not waiting for a hero. I saved myself long ago. I don't need someone to complete me. I am whole alone. I just want a weirdo to go on adventures with. Someone who will dance with me, kiss me when I least expect it and make me laugh. That's it. – Brooke Hampton
And the best love quotes of all time reflect your feelings.
Unconditional Love Quotes for Him
Maybe I am scared because you mean more to me than any other person. You are everything I think about, everything I need, everything I want. – Unknown
You are the best thing in my world. You kissed my fears away, showered a better part of your love on me, opening my heart to love again. Your unconditional love can never be estimated. – Unknown
I will never forget you exist because what I feel for you is unconditional. I promise to love you without looking back. I will always love and cherish you forever. – Unknown
Love is just a word, but you bring it definition. – Eminem
Pleasure of love lasts but a moment. Pain of love lasts a lifetime. – Bette Davis
Men are a luxury. Not a necessity. – Cher
The ultimate lesson all of us have to learn is unconditional love, which includes not only others but ourselves as well. – Elisabeth Kubler-Ross
I cannot wait to start a new life with you. Literally, I feel like you're the one and I want to spend the rest of my life with you by my side. You're the best thing ever happened to me. – Unknown
Missing you is my hobby, caring for you is my job, making you happy is my duty and loving you is my life. – Unknown
Life throws jabs at us, but we will be together. Even with the occasional lapses, mistakes, and goof-ups, we will remain strong. I love you. – Unknown
You love and cherish me so that I will love and honor you with the best kindness in the world. Life may be petty at times, but I will love you unconditionally. – Unknown
Love is a promise; love is a souvenir, once given never forgotten, never let it disappear. – John Lennon
Life is messy. Love is messier. – Catch and Release
I'm scared of walking out of this room and never feeling the rest of my whole life the way I feel when I'm with you. – Dirty Dancing
Don't do anything by half. If you love someone, love them with all your soul. – Henry Rollins
I always pray to share a future with you, because with you, all my worries disappear and my sorrows melt away. You are a rare diamond that had illuminated my world with your unconditional love. – Unknown
I do believe in fate and destiny, but I also believe we are only fated to do things that we'd choose anyway. And I'd choose you; in a hundred lifetimes, in a hundred worlds, in any version of reality, I'd find you, and I'd choose you. – Unknown
I love you. And that is the beginning and the end of everything. – Unknown
No, I am not going to lose feelings. No, I'm not going to find someone better. No, I'm not going to cheat on you. And no, I'm not going to leave you. I've already made up my mind; I want you and only you. No one else….because to me, you are my kind of perfect. – Unknown
I just want you, that's all. All your flaws, mistakes, smiles, giggles, jokes, sarcasm. Everything. I just want you. – Unknown
Love looks not with the eyes, but with the mind, and therefore is winged Cupid painted blind. – William Shakespeare
A book without words is like love without a kiss; it's empty. – Andrew Wolfe
Love is absolute loyalty. People fade, looks fade, but loyalty never fades. You can depend so much on certain people; you can set your watch by them. And that's love, even if it doesn't seem very exciting. – Sylvester Stallone
The heart wants what it wants. There's no logic to these things. You meet someone and you fall in love and that's that. – Woody Allen
We all want to be in love and find that person who is going to love us no matter how our feet smell, no matter how angry we get one day, no matter the things we say that we don't mean. – Will Smith
I am selfish, impatient, and a little insecure. I make mistakes; I am out of control and at times hard to handle. But if you can't handle me at my worst, then you sure don't deserve me at my best. – Marilyn Monroe
Nothing you become will disappoint me; I have no preconception that I'd like to see you be or do. I have no desire to foresee you, only to discover you. You can't disappoint me. – Mary Haskell
Quotes On Unconditional Love
I enjoy the wild things. Call me at 3am and tell me you're waiting at my door. Give me sunsets in different cities and road trips on dirt tracks not sighted on maps. Whiskey for breakfast and cheap thrills for dinner. Give me happiness in a smile and nothing of certainty but the way we make each other feel. – Unknown
Ever since I met you, instantly I felt that we are destined for each other. The way we talked and laughed with each other, I have never felt the same with anyone ever before. I never trusted anyone as much as I trust you. I think I am lucky to find what most people spend their whole lives searching for. – Unknown
Having you in my life has made it so much better. A simple conversation with you makes all the stress fade away. Your unconditional love is my only solace in this world. – Unknown
Listen, I love you. I know sometimes I'm a little bit of a disappointment. I rarely know what I want or think before I act. Still, I want you to know that in a lifetime of rushed decisions, wrong turns, and spectacular messes, you're the first thing that's felt right. – Beau Taplin
I'm amazed when I look at you. Not just because of your looks, but because of the fact that everything I've ever wanted is right in front of me. – Unknown
You are one of the people I never asked from God. But still, he gave you to me. I guess he knew you are the only person who can put all the broken pieces together and make me feel like nothing else matters. – Unknown
People like to say love is unconditional, but it's not, and even if it was unconditional, it's still never free. There's always an expectation attached. They always want something in return. Like they want you to be happy or whatever and that makes you automatically responsible for their happiness because they won't be happy unless you are … I just don't want that responsibility. – Katja Millay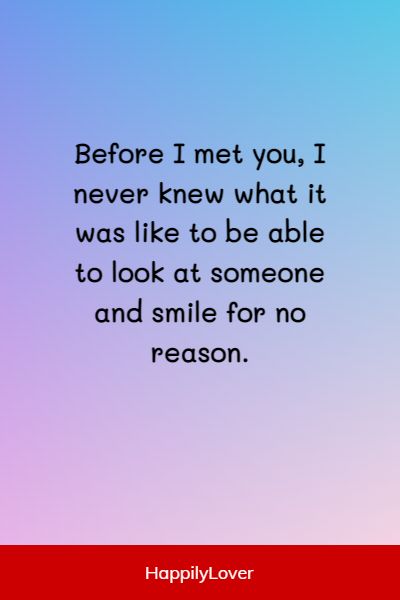 You look like the rest of my life. – Beau Taplin
If a dog can love us unconditionally, why can't we love each other the same way? – Carol McKibben
Love expects no reward. Love knows no fear. Love Divine gives – does not demand. Love thinks no evil; imputes no motive. To Love is to share and serve. – Swami Sivananda
Keep love in your heart. A life without it is like a sunless garden when the flowers are dead. – Oscar Wilde
I don't want someone who sees the good about me. I want someone who sees the bad and still loves me. – Unknown
My love for you overflows like a stream of waterfall. You may make mistakes and we may fight but I will always love you unconditionally, just as you are. – Tanisha Lakes
You're the only one who I wouldn't mind losing sleep for, the only one who I can never get tired of talking to, and the only one who crosses my mind constantly throughout the day. You're the only one who can make me smile without trying, bring down my mood without the intention to and affect my emotions with every action of yours. You're the one I'm afraid of losing and the one I want to keep in my life. – Unknown
In all the world there is no heart for me like yours. In all the world there is no love for you like mine. – Maya Angelou
You are the finest, loveliest, tenderest and most beautiful person I have ever known-and even that is an understatement. – F. Scott Fitzgerald
I've made many mistakes in life, but if every single one had to happen to make sure I was right here, right now, to meet you, then I forgive myself for them all. – K. Towne Jr.
Love is all, it gives all, and it takes all. – Soren Kierkegaard
I have thought my entire life I needed seas or mountains or magnificent city lights to be happy. Truth is: I do not care where I am as long as I have you. – Christopher Poindexter
I once had a thousand desires. But in my one desire to know you, all else melted away. – Rumi
Life is the first gift, love is the second, and understanding the third. – Marge Percy
Love isn't finding a perfect person. It's seeing an imperfect person perfectly. – Sam Keen
Love is made up of three unconditional properties in equal measure: 1. Acceptance 2. Understanding and 3., Appreciation. Remove any one of the three, and the triangle falls apart, which, by the way, is something highly inadvisable. Think about it – do you really want to live in a world of only two dimensions? So for the love of a triangle, please keep love whole. – Vera Nazaria
There are people who wish to love more and give more of themselves. They find out that the highest form of love is unconditional. – Audrey James
My heart is, and always will be, yours. – Sense and Sensibility
Tis better to have loved and lost than never to have loved at all. – Alfred Tennyson
The best way to mend a broken heart is time and girlfriends. – Gwyneth Paltrow
Love is a fire. But whether it is going to warm your heart or burn down your house, you can never tell. – Joan Crawford
If you just believe in me, I will love you endlessly. – Mariah Carey
We do not judge the people we love. – Jean-Paul Sartre
What it's like to be a parent: It's one of the hardest things you'll ever do but in exchange it teaches you the meaning of unconditional love. – Nicholas Sparks
Love Unconditionally Quotes
Love is the only force capable of transforming an enemy into friend. – Martin Luther King, Jr.
Soulmates aren't perfect people. They come into your life and provide polar emotional experiences from intense love to intense pain. Growth comes from both. And a soulmate helps you to grow. It isn't just …, and they lived happily ever after – Unknown but ….and they lived. – Lori Chidori Phillips
Learning to have patience and not forcing the relationship is part of twin soul process. If you are trying to force your will onto other person, chances are you're not ready to really connect yourself. There should be no blame here – only deep and unconditional love. – Chimnese Davids
Love does not dwell on how much one receives in return. If there is ever any balance in love, it is in a contest of who can love who more. – Criss Jami
It is not a lack of love, but a lack of friendship that makes unhappy marriages. -Friedrich Neitzsche
A simple 'I love you' means more than money. – Frank Sinatra
I like to believe that love is a reciprocal thing, that it can't really be felt, truly, by one. – Sean Penn
When you break up, your whole identity is shattered. It's like death. – Dennis Quaid
Love is blind. It will take over your mind. What you think is love, is truly not. You need to elevate your mind. – Eve
True unconditional love starts from you to you. Stop waiting on others to give it to you. – Edmond Mbiaka
The only love worthy of a name is unconditional. – John Powell
She didn't just fall in love with him once. She falls in love with him every time she looks at him. – Josephine Angelini
She knew one hundred little things about him, but when he kissed her, she couldn't remember her own name. – Michelle Hodkin
They didn't agree on much. In fact, they didn't agree on anything. They fought all the time and challenged each other every day. But despite their differences, they had one important thing in common. They were crazy about each other. – Nicholas Sparks in The Notebook
I Love You Unconditionally Quotes
There are no monuments dedicated to me, and my name will soon be forgotten, but I've loved another with all my heart and soul, and to me, this has always been enough. – Nicholas Sparks
She loved with a messy heart, he hugged her with fragile bones, she touched him with scarred hands, he kissed her with bruised lips. They whispered all their flaws and inhaled the storm together. – Randy Mascorro
We accept the love we think we deserve. – Stephen Chbosky
Accepting someone with all their faults and failings without expecting anything in return is hard. But that is what true love is all about. – Allison Maine
If someone is facing a difficult time, one of the kindest things you can do for him or her is to say, 'I'm going to love you through this.' – Molly Friedenfeld
Being deeply loved by someone gives you strength, while loving someone deeply gives you courage. – Lao Tzu
Love is needing someone. Love is putting up with someone's bad qualities because they somehow complete you. – Sarah Dessen The best love is the kind that awakens the soul; that makes us reach for more, that plants the fire in our hearts and brings peace to our minds. That's what I hope to give you forever. – The Notebook
When we make the choice to fill our heart space with unconditional love, our worlds blossom into a beauty far greater than we have known. – Rio Godfrey
I love you without knowing how or when or from where. I love you simply, without problems or pride. – Pablo Neruda
Only when we give joyfully, without hesitation or thought of gain, can we truly know what love means. – Leo Buscaglia
Love? What is love? Love is to love someone for who they are, who they were, and who they will be. – Chris Moore
Even after all this time the sun never says to the earth you owe me. – Unknown Look what happens with a love like that. It lights the whole sky. – Hafiz
Unconditional Love is the outer expression of Inner Peace. – Alaric Hutchinson
She wasn't afraid of my demons, and I did not fear her madness. We saw beyond those things that life does to a person. And underneath it all, there's a beautiful soul that just wants to be loved. – J.M. Storm
Love is of all passions the strongest, for it attacks simultaneously the head, the heart, and the senses. – Lao Tzu
Love is an emotion experienced by the many and enjoyed by the few. – Unknown
I love you with every piece of me. I will love and love and love until I have nothing left, I will make more out of nothing that lives where everything once did. I would dismantle me to put you back together again. – Tyler Knott Gregson
He felt now that he was not simply close to her, but that he did not know where he ended and she began. – Leo Tolstoy