Sisters have a bond like no other. Whether you're big sister or little sister, you know what you have very special relationship. To celebrate sisterhood, cute quotes about sisters will warm your heart.
Table of Contents
Famous Sister Quotes
Having a sister is like having a best friend you can't get rid of. You know whatever you do, they'll still be there. Amy Li
HappilyLover Presents:
Transform Your Relationships with Self-love! Learn how nurturing self-acceptance can lead to more fulfilling connections. This e-book guides you on an empowering path to self-discovery and relational bliss.
Start Your Journey to Self-Love Now!
I know what you did, and I will tell Mom!
Sister is probably the most competitive relationship within the family, but once the sisters are grown, it becomes the strongest relationship. Margaret Mead
When sisters stand shoulder to shoulder, who stands a chance against us? Pam Brown
In life, people will come and go. Friends change as swiftly as the weather. But I always know that my sister will be here forever.
Sisters may drive you crazy, get into your stuff and irritate you. However, if anyone else dares say so, a sister will defend you to the death.
I could never love anyone as I love my sisters. Little Women film adaptation (1994)
As far as sisters go, you're the best there is, but I'm still the favorite.
A sister is a special type of angel on earth who brings out your best qualities.
A sister can be seen as someone who is both ourselves and very much not ourselves a special kind of double. Toni Morrison
A sister is someone who loves you from the heart. No matter how much you argue you cannot be drawn apart. She is a joy that cannot be taken away. Once she enters your life, she is there to stay.
HappilyLover Presents:
Unlock the Secret to Stronger Relationships with Self-Love! Explore how self-esteem shapes your interactions. This e-book offers essential insights into building a compassionate relationship with yourself, paving the way for healthier and happier connections with others.
Download Your Guide to Self-Love & Relational Harmony!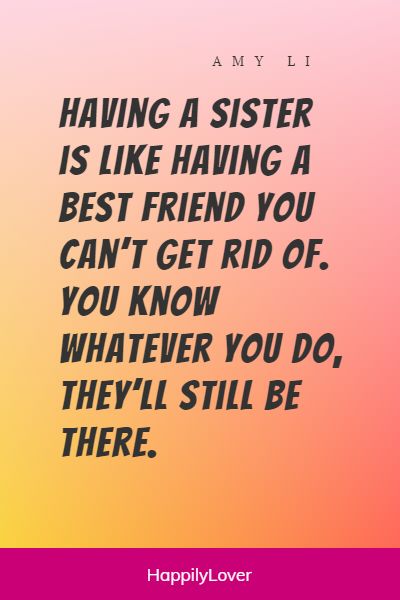 If you think I'm high maintenance, you should see my sister.
A sister is a gift to the heart. A friend to the spirit. A golden thread to the meaning of life.
Sisters are the best kind of friends – there's no friend like a sister.
Acquaintances were always on their best behavior, but sisters loved each other enough to say anything. Lauren Weisberger
Meaningful Sister Quotes
Little sisters the only person in the world you can blame for the things you did and get away with it.
As you're growing up and you're close, you can't trust anyone the way you trust your sister, but also they have the power to wound you in ways no one else really does. Ally Condie
There's nobody in the world that knows me better than my sister. Tia Mowry
She is my sounding board, my confidante, my keeper of secrets – and my best friend. Kathleen O'Keefe
You're my sister and my best friend. If you think otherwise, just remember I know all your secrets.
If your sister is in a tearing hurry to go out and cannot catch your eye, she's wearing your best sweater. Pam Brown
If you trip and fall in life, I will be there to help you up – after I quit laughing.
We'll always fight, but we'll always make up as well. That's what sisters do: we argue, we point out each other's frailties, mistakes, and bad judgment, we flash the insecurities we've had since childhood, and then we come back together. Until the next time. Lisa See
When you have a sister, you never truly forget the past. If you do, she'll be happy to remind you of all your stupidest mistakes.
I'm the big sister. I want to make sure she has everything, even if I don't have anything. It's hard. I love her too much. That's what counts. Venus Williams
Our crazy family tree we re just two nuts who survived it together. Love you, sis.
Sister. She is your mirror, shining back at you with a world of possibilities. She is your witness, who sees you at your worst and best, and loves you anyway. She is your partner in crime, your midnight companion, someone who knows when you are smiling, even in the dark. She is your teacher, your defense attorney, your personal press agent, even your shrink. Some days, she's the reason you wish you were an only child. Barbara Alpert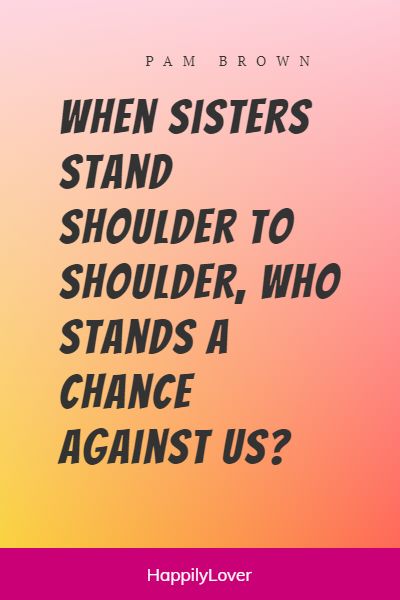 No matter how hard you try, sisters are the friends you can never get rid of.
Sisters make the best friends in the world. Marilyn Monroe
Yeah, my sister scares me a little bit, but that's part of what I love about her.
You may be as different as the sun and the moon, but the same blood flows through both your hearts. You need her, as she needs you. George R.R. Martin
Emotional Sister Quotes
I may not be able to solve all of your problems, but I promise you won't have to face them alone.
Sisters help make the hard times easier and the easy times more fun.
HappilyLover Presents:
Elevate Your Relationships Through the Power of Self-Love. Learn how to cultivate self-worth and authenticity, creating a foundation for more genuine and supportive relationships.
Embark on Your Self-Love Adventure Today!
Sister, we share so many moments that no one else will understand. We laugh at inside jokes, have our own catch phrases, and understand each other's joy and pain. I can't imagine anyone who would make a better best friend than you, and I'm so happy to have you in my life.
No matter how far you are, you'll always be in my heart, dearest sister.
She's my steadfast friend, my support when I am weak, and my cheerleader when I am discouraged. I can't imagine life without my best friend, my sister.
When my sister, Joan, arrived I asked if I could swap her for a rabbit. When I think what a marvelous friend she's been, I'm so glad my parents didn't take me at my word. Maeve Binchy
I grew up believing my sister was from the planet Neptune and had been sent down to Earth to kill me. I believed this because my sister Emily convinced me of it when I was a toddler…There's a part of me that still believes it. I have moments when I think, Hmm, could that be true? Occasionally I ask my sister about it and she responds by pulling an alien face, which only confuses matters. Zooey Deschanel
Of two sisters one is always the watcher, one the dancer. Louise Glück
Is solace anywhere more comforting than that in the arms of a sister? Alice Walker
Being without your sister is like being without your heart and soul.
A sister is like yourself in a different movie, a movie that stars you in a different life. Deborah Tannen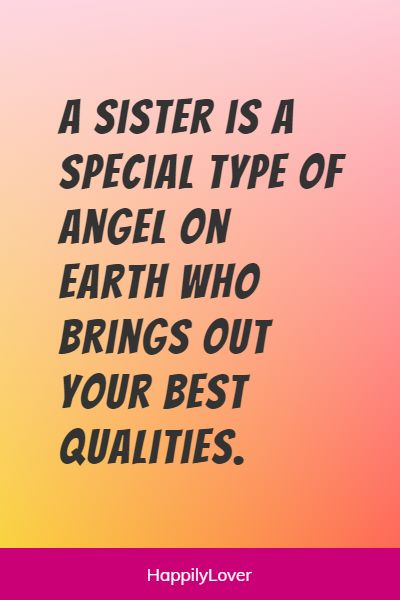 We start our sentences with remember when and end our days with a chat on the phone. As children, we fought and argued over everything, but as adults, we are the very best of friends. You are the one person I have always been able to count on and I love you more with each year that passes, my first and dearest friend.
Never let an angry sister brush your hair.
Sister, no matter how old we get, being with you is like being a little girl again.
HappilyLover Presents:
Transform Your Love Life by Starting with Yourself! Understand how self-love impacts every relationship. This e-book provides practical tools and exercises to build your self-esteem and enhance your connections with those around you.
Begin Your Path to Better Relationships!
In the cookies of life, sisters are the chocolate chips.
The best gift Mom and Dad ever gave me was you
I do not see as well without her. I do not hear as well without her. I do not feel as well without her. I would be better off without a hand or a leg than without my sister. Erin Morgenstern
She's not just my best friend; she's my sister
Short Sister Quotes
Nobody fights you like your own sister; nobody else knows the most vulnerable parts of you and will aim for them without mercy. Jojo Moyes
Sister, you are my human diary. You know all my secrets and the deepest wishes of my heart.
If you mess with one sister, you should know there's another sister out there who has her back.
Don't talk about my sister; don't play with me about my sister. If you do, you'll see another side of me. Beyoncé
Having a sister means I always travel with back up.
That's the best thing about little sisters: They spend so much time wishing they were elder sisters that in the end they're far wiser than the elder ones could ever be. Gemma Burgess
Sister, no matter how difficult it gets, no matter how much we fight, I'm your forever friend.
My sister was the one person who told me not to change, that my skin was beautiful. She really helped me feel good about myself. Khoudia Diop
Boys come and go, and sometimes, they don't recognize our beauty and worth. But sister, I'll always be here to tell you how you sparkle.
Sister to sister we will always be, a couple of nuts off the family tree.
Sister, when we stand together, nothing else stands a chance.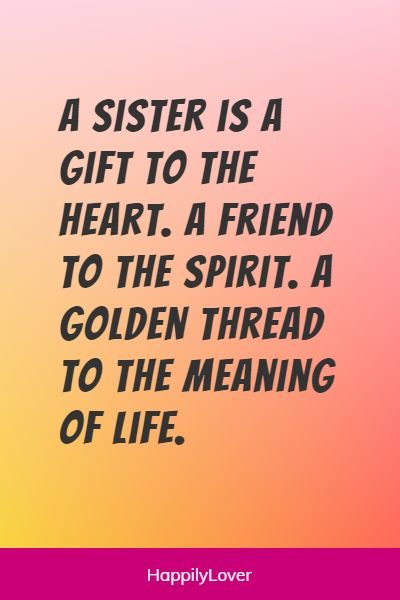 For there is no friend like a sister in calm or stormy weather; To cheer one on the tedious way, To fetch one if one goes astray, To lift one if one totters down, To strengthen whilst one stands. Christina Rossetti
Sometimes, a good talk with my sister is all the therapy I need.
HappilyLover Presents:
Find Love Outside by Cultivating it Within! 'Self-Love: The Journey to Embrace Your Essence' is your roadmap to nurturing a deep sense of self-worth and bringing that love into every relationship you have.
Nurture Your Inner Self – Download Now!
If you don't annoy your big sister for no good reason from time to time, she thinks you don't love her anymore. Pearl Cleage
Sister, there is no problem we can't solve when we're together.
Sisters function as safety nets in a chaotic world simply by being there for each other. Carol Saline
Sweet Sister Love Quotes
There were once two sisters who were not afraid of the dark because the dark was full of the other's voice across the room, because even when the night was thick and starless they walked home together from the river seeing who could last the longest without turning on her flashlight, not afraid. Jandy Nelson
If you have a sister and she dies, do you stop saying you have one? Or are you always a sister, even when the other half of the equation is gone? Sister, no matter how difficult it gets, no matter how much we fight, I'm your forever friend. Jodi Picoult
Going through a rough time in life has one great advantage; it teaches you how much your sister really has your back.
We have our own, unspoken language a look that makes one of us fall on the floor laughing or the slight inflection in our voice that conveys everything. It is the ability to prod laughter and love no matter how much your heart might hurt. Someone who sees you exactly as you are and thinks that is enough. Someone who will walk next to you always. Barbara Bush, on twin sister Jenna Bush Hager
Sister, I've seen your strength all my life, and I will never stop believing you can slay dragons if you wish to.
If you don't understand how a woman could both love her sister dearly and want to wring her neck at the same time, then you were probably an only child. Linda Sunshine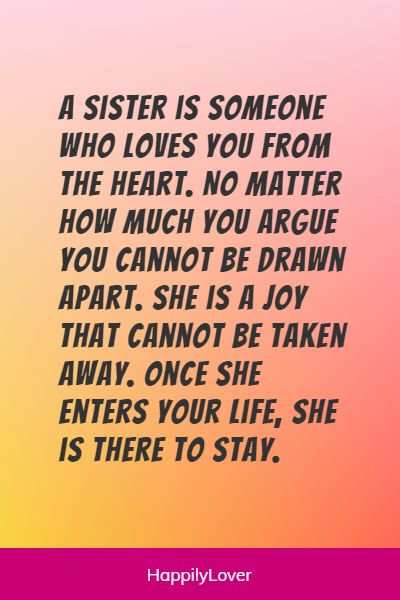 A sister is both your mirror and your opposite. Elizabeth Fishel
Sweet is the voice of a sister in the season of sorrow. Benjamin Disraeli
When traveling life's journey it's good to have a sister's hand to hold on to.
What are sisters for if not to point out the things the rest of the world is too polite to mention. Claire Cook
A sister is a little bit of childhood that can never be lost.
I'm smiling because we're sisters. I'm laughing because there's nothing you can do about it.
Being sisters means you always have back up.
A sister is God's way of proving he doesn't want us to walk alone.
Boys seemed incredibly tedious and dim compared to my sisters, who were always a rush of energy and excitement, buzzing over all the books, records, jokes, rumors and ideas we were discovering together.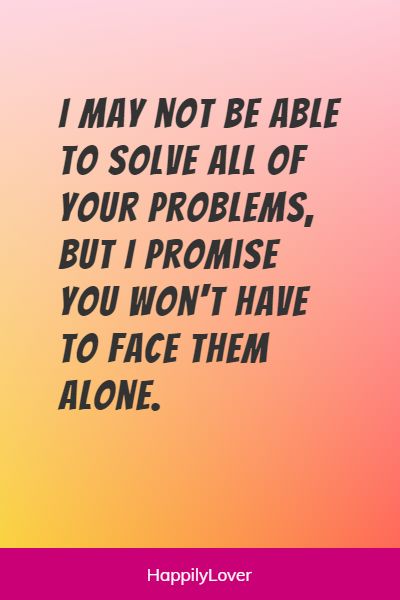 You ever hear Dad introduce us to people? 'This our daughter Dottie. And this is our other daughter, Dottie's sister.' They should've just had you and bought a dog. A League of Their Own
Among the merits and the happiness of Elinor and Marianne let it not be ranked as the least considerable that though sisters, and living almost within sight of each other, they could live without disagreement between themselves. Jane Austen
Beautiful Sister Quotes
There is no better friend than a sister. And there is no better sister than you.
My sister…is the person who keeps me in line, whether I like it or not. I trust her and also have a good, healthy fear of her. Katy Perry
Sisters are for sharing laughter and wiping tears.
I would like more sisters, that the taking out of one, might not leave such stillness. Emily Dickinson
She's my sister, my best friend, my soul mate and the best part of me.
Lord help the mister who comes between me and my sister, and lord help the sister who comes between me and my man. Irving Berlin
Sister and friend. Two words that mean the same thing.
There can be no situation in life in which the conversation of my dear sister will not administer some comfort to me. Mary Worley Montagu
We're sisters. You're my family what is you is me. There's nothing that you could ever say to make me let go. I love you.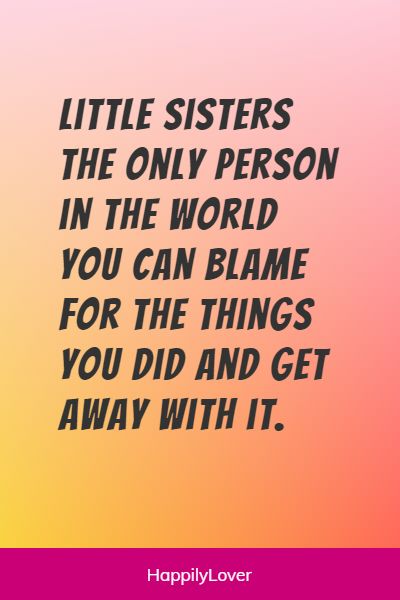 There is no place for secrets in sisterhood. Erin Forbes
Brothers and sisters are as close as hands and feet.
I know my sister like I know my own mind/You will never find anyone as trusting or as kind…I love my sister more than anything in this life/I will choose her happiness over mine every time. Hamilton
The only thing better than having you as my sister is my children having you as their aunt.
But the love of sisters needs no words. It does not depend on memories, or mementos, or proof. It runs as deep as a heartbeat. It is as ever-present as a pulse. Lisa Wingate
Happiness is being with my sister.
Four sisters, parted for an hour None lost, one only gone before Made by love's immortal power Nearest and dearest evermore. Louisa May Alcott
Inspirational Sister Quotes
Sisters are blessed with an extra sense that whispers when the other needs them.
A sister is like a guardian angel. She protects you from harm. She helps you. She gives advice. She's always by your side. And she's the only one in the world who can't forget you.
Your sister knows everything to say to piss you off. But sisters tend to be each other's biggest champion and also their hardest critics. Erin Foster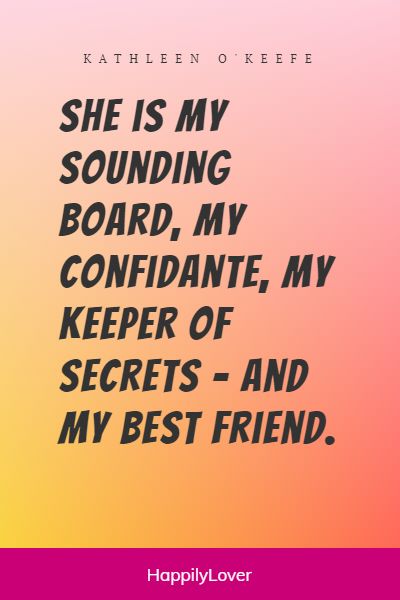 The best thing about having a sister was that I always had a friend. Cali Rae Turner
Sisters are angels who lift us up when our wings forget how to fly.
Sisters don't need words. They have perfected their own secret language of smiles, sniffs, sighs, gasps, winks and eye rolls.
The only person I lie to is my little sister, when I steal her clothes. Kendall Jenner
You can kid the world, but not your sister. Charlotte Gray
Don't believe an accident of birth makes people sisters or brothers. It makes them siblings, gives them mutuality of parentage. Sisterhood and brotherhood is a condition people have to work at. Maya Angelou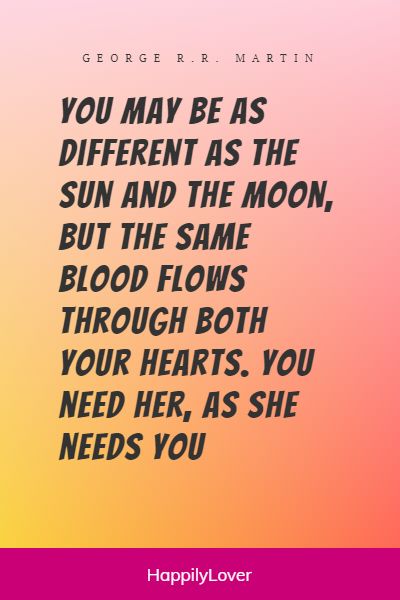 Sisters are different flowers from the same garden.
The greatest gift our parents ever gave us was each other.
My sister taught me everything I really need to know, and she was only in sixth grade at the time. Linda Sunshine
She's the toughest player I ever played in my life, and the best person I know. Serena Williams
My sister is the one person who truly knows me, as I know her. Lisa See