There is no doubt that sweet good morning love letters will put a smile on your beloved's face. It is also a great way to brighten your special someone's day.
Feelings can be hard to express, but with I love you message, you can put into words. From missing you message to goodnight text, these deep love quotes capture what's so special about a deep and meaningful connection.
Cute Good Morning Love Letters
Good morning, sweetheart. I want to tell you that I am hopelessly in love with you. I may not be able to send you loving messages all the time, but I cannot stop loving you for even a moment. You are life's most wonderful gift to me, and I promise to cherish you always. Have an awesome day!
Good morning, beautiful. I only dreamt of making you happy today. I'll turn that dream to a goal so it may come to pass in a split of seconds. Endeavour to accept my offer of a sumptuous lunch this afternoon, for I can't go on if you ain't here with me. Having you on my mind is a pleasure I can't explain. So, do not act timid, when I call out your name. Spread your wings and fly, make it a habit all year long. Cause I can't wait to see you at the top, my love. It is where you should always be.
My life got on the right track the moment you decided to share your journey with me. I look forward to making beautiful memories with you and paint the world with our love. It is impossible to go on in life without you. Have a pleasant morning, my travel and life partner.
Good morning sweetheart, when I said you are my dreams come true, I wasn't exaggerating at all, you make me speechless each time I wake up and look into your eyes, you are pleasing to my heart, wishing you a wonderful day, I love you.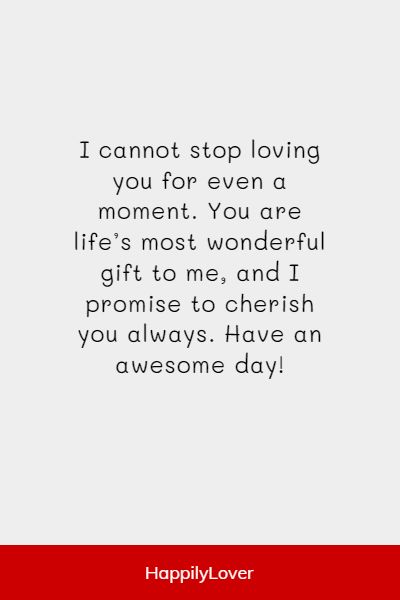 I found you when I lost myself in love. You are everything in my world. Good morning to the special one, you rule my heart. I can't wait for our future together where we will sleep on each other's body and wake up to each other's smiles. The future will be beautiful, and nothing will deny me this wonderful happiness. Have a fantastic day, my love.
Good morning cute. I'm happy when you are near. You have touched my life a lot. I'm doing everything that gives me a feeling of happiness. And now can I give you a morning kiss?
I may not pray too often, but when I do, I do it for you. You have brought so much happiness in my life that I pray you get all the love you deserve. I pray that you remain happy and cheerful always. And when sadness strikes, may you conquer it like the true queen that you are. Have a lovely morning, my pretty love.
Here is a heartfelt and pure good morning letter for the love of my life. Through this letter, I send you my good wishes and love. I send you my warm hugs and long cuddles. Have a fantastic day today. I love you.
Romantic Good Morning Letters
Good morning my love. Know that there is nothing better than waking up with you in mind, even after having spent the night thinking about you.
When I think or dream about you the best thoughts just come to my mind. I hope today you've woken up in a good mood, happy, and able to present yourself to the world with your bright eyes and with your most beautiful clothes to bring more beauty to this little planet of ours.
Good morning, honey! Say hello to a new day with a twinkle in your eyes. I love you and will miss you each time my heart beats. I cannot wait to say good morning to you with a long kiss. I wish for each second to pass soon, so I can be there with you. See you soon.
Good morning to you, my love.
The love of my heart.
I wish you all the best in this brand new day. Enjoy the goodness of the new day.
I like my life even more now that you are a part of it. I wake up excited each morning because I want to spend more time with you. Whatever today brings me, I will get done with it as fast as possible because I want to see you soon. Good morning, my love.
Wake up, sleepy-head, and open your eyes to this message of mine. Good morning, sweetheart. Cheers to yet another day of loving you. I wish to keep loving you for as long as I breathe. Have a great day.
My heart is full of love, hope, and joy knowing I have found you. With you, life is perfect. To me, you are the perfect example of beauty and grace. You are everything that is good in this world and I will never stop loving you!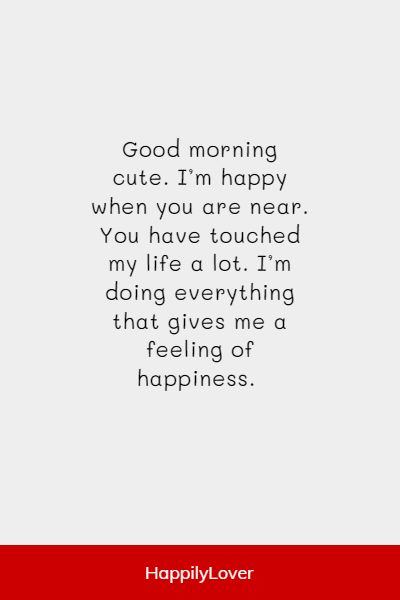 To the most beautiful person ever, I want you to know that I think of different ways to show my love to you every morning. And today, I will do that with this love message. You are the best thing to have happened to me in this lifetime. And I wish to meet you in every other lifetime of mine. Good morning, dear.
Another morning, one more day, another chance to live once more. I need you to realize that you're generally at the forefront of my thoughts as I wake and the exact opposite thing that rings a bell before I rest.
You soften my heart when I'm upset, you make me feel joyful just at the sound of your voice, every moment I spent with you is like I'm living in paradise, I miss you, my love, good morning.
The sun waits for you to wake up, while the moon waits to see you in bed. Open your eyes and look around to see how nature waits for you to enjoy it and fill it with your love and cheer. Wake up, my love, for my world cannot function without you.
May the sun shine brighter on you this morning because I asked it to do so. My love, you are away from me but never away from my thoughts. You are in my prayers and also in my dreams. You have taken over my life, and I am more than happy about it. Every morning becomes good when I have a partner as cool as you.
Beautiful Good Morning Love Letters
You are my daylight since you appear exactly when I need you. I know you as my light since you light up my reality consistently. I call you my own in light of the fact that you are the one for me.
I sleep excited every night, hoping to see you in my dreams. And I wake up excited every morning, longing to meet you. How amazing you must be, for you to occupy my thoughts throughout the day. Good morning, my hero.
You are the biggest miracle of my life, for you have come into my life as a pure soul that knows of nothing but to spread happiness and cheer. The mere thought of you brings a smile to my face, and I feel glad to call you mine. Good morning, babe.
Good morning sweetheart, I hope you slept well. I love you so much. Just thinking about you makes me smile. Thinking about how lucky I am to have such an amazing boyfriend like you makes my heart swell with joy! You are the love of my life, my ray of sunshine, and the purest form of happiness. I can't wait to see you again at the end of the day, my love!
Good morning, sweetheart! Do not think of this message as a regular one as I have attached my love and good wishes to it. The moment you read this message, all my love and prayers will seep into your pores and reach your core to make you happy.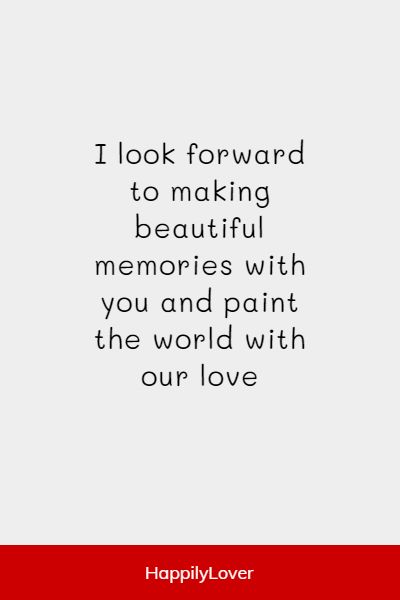 Good morning to the one who taught me how to love. I hope you have a wonderful day today. Keep spreading your positive energy because this world needs awesome people like you. You rule my heart, and I am glad to wake up each morning, knowing I have a wonderful person in my life.
Good morning my love. It was the best feeling waking up this morning and seeing you by my side. I'm so lucky to have you in my life, without you I wouldn't have the light that shines into my life every day.
Good morning, love. I can't stop thinking about you. I am so fortunate to have you in my life, and I want you to know that I appreciate every single thing you do for me, for us. You are my rock and the bright light that never dims. You are my dream come true, and I couldn't be happier that I found you.
Heart Touching Good Morning Love Letters
Good morning, my love! It's early, but I miss you so much and want to wish you a great start to your day. I woke up thinking about how lucky I am to have such a wonderful person like you. I love you so much and am grateful to have you in my life, sweetheart. Have a good start to your day, baby!
I know how it feels to have been going through this lot, my dear.
I've seen your trials and pains. I've seen how you are struggling to get out of this. I feel the agony and the helplessness when I put myself in your shoes.
While filling in my gratitude journal this morning, I noticed that I thanked God for sending you to me not just once or twice but every single day since I met you. You have no idea how painful it feels to stay away from you. I wish I could touch you and kiss you every morning. But since I can't do that, I will settle for a good morning letter. Have a rocking day ahead, my love.
Arise and shine, my darling. For my heart awaits to love you silly. Do not look away, my love. Set your eyes upon me as I prove to you how much you mean to me. Walk this lane with me and I'll be your guide for the rest of our lives. Like an angel, I will shield you from all evil and lift your feet from kicking against a stone. Just walk with me and see me love you with every ton of my strength. You're my life, sweetheart.
Hello darling, have a wonderful day! I am up early this morning and watch you sleeping while thinking about making you an excellent breakfast or lunch.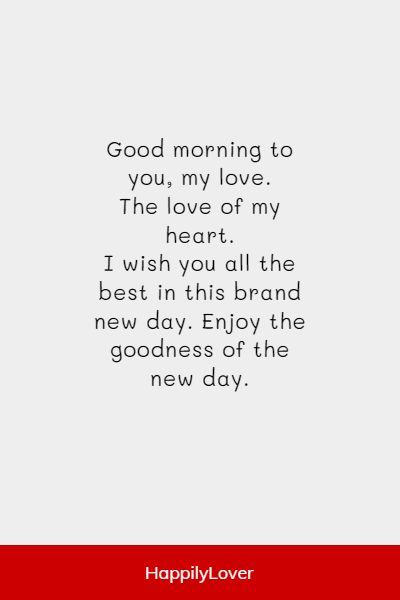 Top of the morning to the one who makes the morning sun shines brighter upon my abode. A little note of reminder of my love to the one reading these words with a smile. On this day and the days to come, loving you is what I'll do to stay alive. If you have a heart to spare, be sure my love for you still wouldn't get exhausted. Feel my warmth even from a distance apart. For this day again my heart says that it loves you to the moon and back.
My love, there isn't a day that goes by that I don't think about you. I count down the hours until you are home, and in my arms again. I can't wait to see you, hold you, kiss you.